Jean Paré – "Company's Coming"
Since 1981, a series of coil-bound cookbooks have engaged a couple of generations or more of people wanting easy-to-read unpretentious recipes.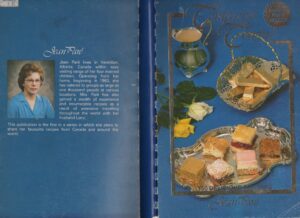 She was small-town born and Canadian at heart, working out of Vermilion, Alberta. In the dedication to her first cookbook, "150 Delicious Squares", she attributes her parents for their influences: her mother Ruby Elford's good cooking and her father Edward Elford's praise for everything she tried.
I asked my friend and colleague, Sharon Relkey (Home economist, and teacher) for her recollections about Jean Paré.
"When Jean Paré started out , she catered great meals for events and she shared recipes with anyone who wanted her recipes. She was an average person. and personable. She related to ordinary, everyday people. Her recipes were good, reliable, and if you followed them they worked. Her cookbooks were reasonably priced, reliable easy to read recipes with ordinary and easily attainable ingredients (S. Relkey, personal communication, 4 January, 2023).
Someone recently said to me, Jean Paré – isn't she the Canadian equivalent to Martha Stewart? I think Stewart is an imitation.
If you would like to read more about timeless Canadian cookbooks, here is a link. A Quill & Quire post from 2012 , by Melissa Buote, attempts to define Canadian cuisine. She quotes Barbara-jo McIntosh, proprietor / owner of Vancouver's Barbara-Jo's Books to Cooks before its permanent closure in 2017. "In Canada we don't have really distinct cuisine in an all-encompassing way. What we do have is history."
If you would like to make a recipe in tribute to Jean Paré, I offer you "Bikini Bars" from "150 Delicious Squares" (p. 114). In my square-making days for the NorKam Grad tea, the cafeteria teacher once said, "If you're going to make something sweet, don't go halfway".
In lieu of empty, delicious calories, you can always try "Secret Caesar" if you're breath and weight-conscious. I no longer have the series – I gave my cookbook collection to University of the Fraser Valley last spring in an extreme house-clearing, life-changing event, and once in awhile, I wish I still had a couple of Paré's cookbooks.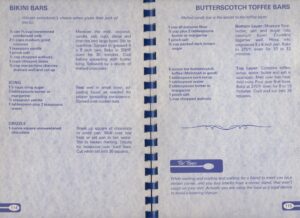 References:
https://www.theglobeandmail.com/life/food-and-wine/article-cookbook-author-jean-pare-dead/