Squash – Pumpkin Family is misunderstand and underrated.  All of the Cucurbitale botanical order originated in Indigenous cultures in the Americas.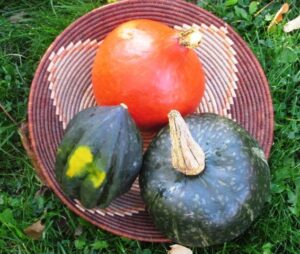 Scientific name: Cucurbita maxima
Family: Cucurbitaceae
Kingdom: Plantae
Summer squash examples are: crookneck, pattypan, zucchini, straightneck. They grow to maturity faster than winter squash.
Winter squash include acorn, butternut, delicata, spaghetti, kabocha, kuri. They are more dense and take up to 120 days to come to maturity.
https://www.thespruce.com/cucurbita-maxima-winter-squash-guide-5201845
Squash are generally underrated for cooking and overrated for carving!
Recently, Slate Magazine reprinted a 2013 article entitled "Why can't we eat the pumpkins we carve".  I learned several things from the Slate magazine article:
Canned pumpkin is butternut squash, not pumpkin.
Pumpkin has been bred for appearance not taste, so it's no wonder you can't make a decent pie filling with it.
The outside of the blue hubbard squash is so hard, it can be dropped off a two-storey building and not break.
The botanical differences between squash and pumpkin are slight. Getting a "purebred" heirloom, heritage squash is difficult. You could save seeds from a squash you grew or bought, and plant it far away from other squash. Hybrids (with F1 marked on the seed package) will not come true.
When the plants bloom, fertilize the female flowers with the male flowers. Or make sure you encourage bees in your garden.  Male and female flowers do not always bloom at the same time. The female flowers have a tiny bulge at the base of the flower that looks like a tiny squash or pumpkin. The male flowers have (what else) a stamen that looks like a penis.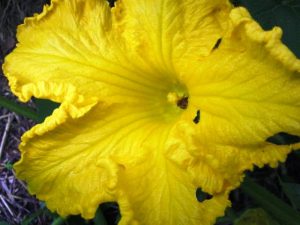 Investigating varieties of squash further opens up a whole world. I have had seed-saving successes with store-bought delicata squash. It is small and boat-shaped, the skin is not too hard to cut, it is very pretty and delicious.
Here is my favourite winter squash recipe from "Healthy Home Cooking" by Margaret Howard and Ellie Topp and published in 1993 by the long disbanded Canadian Home Economics Association. An historical note is: in my opinion, HHC is an outstanding recipe book. Towards the end of the saga, the cookbooks were given away free.
Mixed Winter Squash Bake
Use any type of winter squash you have available.
Prepare 8 cups of peeled and cubed winter squash. If the outside is very hard "Healthy Home Cooking" suggests precooking in a microwave at high for 2-3 minutes. Acorn, butternut, buttercup, turban, kuri, hubbard)
Mix together prepared squash, 3 Tablespoons flour, and herbs – 1 Tb.minced parsley, 1 tsp. dried rosemary, 1 ts. ground ginger, ½ tsp. dried thyme, salt, and pepper.Toss squash with this mixture and place in medium-size casserole.
Combine 1/3 cup veg. or chicken stock, 2 Tb. olive oil, and 2-3 cloves minced garlic. Pour over squash mixture. Stir.
Cover and bake in 350 degrees oven for 1 hour or until squash is tender..
Preparing Pumpkin / squash leaves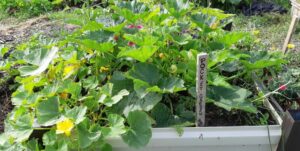 In a perfect world, people would work together to share squash/pumpkin leaves with squash/ pumpkin aficiandos! Here is a good recipe using both leaves and squash.
30 pumpkin leaves ( make sure there is no mildew on the leaves)
1 chopped onion
1 diced tomato
Salt and pepper to taste
1 tbsp vegetable oil
2 tbsp fresh cream
Instructions
Cut the prepared leaves into ribbons.
Boil salted water and add the pumpkin leaves. You may add a quarter teaspoon of baking soda if the leaves are hard to the touch. Simmer for about 5 minutes or until the leaves are tender.
Remove from heat and drain. Place the leaves in a bowl.
Saute the onion in the oil and the tomato. Add salt and pepper to taste. Add back the pumpkin leaves, blend well. Serve with sadza or rice  (https://cheflolaskitchen.com/sadza-ugali/)
Delicata Squash Boats
Prepare delicata squash by taking a slice off one end so it sits flat, then cutting in half and removing the seeds.  Bring water to boil and add greens (pumpkin leaves and chard). Simmer for 5 minutes or until leaves are tender.
Roast the squash at 375 or 400 (til soft) (keep the oven on). . Cook long grain or wild rice. Sauté any veg you want in butter or oil. I used green onions, red peppers, tomatoes, pumpkin leaves  and chard(cut into ribbons), 15 mL. cream, salt and pepper.  Mix veg. and rice. Top with crumbled feta. Heat in 375 oven for 5 minutes.