Soda Water in BC
As food history researchers we never know what might pique our interest. Recently I was looking at the collection of food images in the BC Archives Royal BC Museum website[i]. When I came across an advertisement for Thorpe's Soda,  I immediately wanted to know what it was all about.
It turns out that Thorpe & Company Soda Water Works was established in Vancouver in 1889 and was operational until 1935. It produced beverages such as Ginger Beer, Kola Champagne, Iron Brew and Sarsaparilla and other fancy names as shown in the following pictures from their PNE display or their delivery truck circa 1930 from the City of Vancouver Archives[ii]
Thorpe and Company also expanded and had production plants in Victoria from1892 – 1923 and in Nelson from1897 – 1923.  I didn't find out how the name "Thorpe" originated but I did find a Certificate of Incorporation granted to Thorpe & Company in 1894 listing Frank H. Price, William McCombie Hutcheson and William Bryce as trustees.[iii]
The main plant in Vancouver was located in the Mount Pleasant area near Brewery Creek. Mount Pleasant is the only community in Vancouver that developed around a creek and at that time the creek was one of the largest salmon and trout waterways in Vancouver. It formed a ravine 40 feet deep as it cascaded down the hillside to the ocean. It was named Brewery Creek by British settlers in the 1880s because of the concentration of breweries and soda works who located along its banks to draw on the water source[iv].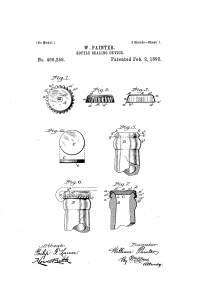 Here are a few encyclopedic facts about soda production and a diagram showing the process:
The first drinkable man-made glass of carbonated water wasn't invented until the 1700s.
Before that, natural mineral waters which were thought to have curative powers since Roman times were bottled.
Pioneering soft-drink inventors, hoping to reproduce those health-enhancing qualities in the laboratory, tested various methods to carbonate water.
Joseph Priestley, the British scientist who discovered oxygen, gets the credit for inventing carbonated water in 1772.  He developed a technique for "pushing" carbon dioxide into water,  by dissolving it under pressure, thus leading to long-lasting bubbles of gas.
Carbonated water led to development of the soft-drink industry. By the beginning of the1820s, small carbonated bottling operations were established in Canada, producing carbonated water in refillable bottles,  merchandised as medicinal elixirs or tonics. In short order, flavourings (normally fruit concentrates) were added to enliven the taste.In the early years of the industry, carbonated beverages were sold in round end bottles with corks secured by wire. The round end was necessary so that they had to be stored upside down and they would keep the cork moist and secure so the carbonation couldn't leak away. The Canadian Encyclopedia tells us the early soft drinks sold in Canada were packaged in 8-ounce (227.2 ml) round-bottom bottles for about 25 cents a dozen. [v]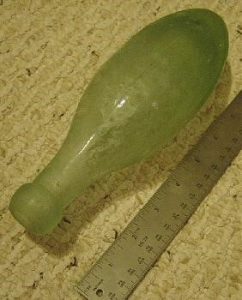 Production changed with the invention of the "crown topped" bottle by an American, William Painter, who applied for a patent in 1890 and was granted one in 1892[vi]. It was a specially designed bottle that would "take the crown finish" where the top was ridged to accept a metal top or "crown".   Early versions of the crown finished bottle were still hand blown but by 1915 manufactured crown topped bottles were being produced.

Early versions of the crown finished bottle were still hand blown but by 1915 manufactured crown topped bottles were being produced.
Here are a couple of crown top bottles from Thorpe and Company. The green bottle with a Thorpe's label was salvaged during the demolition of the Pantages Theatre in Vancouver when it was demolished in 2011.[vii] The opaque bottle with Thorpe's etched down the right side was found on Vancouver Island.[viii]
What was interesting was that the most informative sources about soda water producers in BC were bottle collectors.
It is hard to imagine the number of soda pop and ginger beer companies in BC existing in the late 1800s and early to mid-1900s. The following list gives company names, locations and approximate years of existence as compiled by Bill Wilson in his two books, Soda Kings of BC and the Yukon (Wilson, 2019) and Pioneer Soda Water Companies of BC (Wilson & Askey, 1986).  The Nostalgic Portal[ix] was the source of the list. Perhaps your community is listed?

A.C. Bowness 119 W. Baker St.Cranbrook B.C.1905 – 1928
A.S. Suckling & Co. Vancouver B.C.1912
Acme Soda Water & Bottling Works 208 Simpson St.New Westminster B.C. 1911 – 1922
Adams & Lawrance Nanaimo B.C.1889 – 1891
Albion Bottling Co. T.Z. Krusner 2nd Ave & 8th St. Prince Rupert B.C.
Alexander Phillips Fort St.1871 , Yates St.1858 – 1876 Victoria B.C.
Alexander Phillips & Son Yates St.1879 – 1896 Victoria B.C.
B.C. Bottling Works 1210 Cameron St. New Westminster 1914 – 1921
Bowes Bros. Vancouver B.C. 1911
British Canadian Manufacturing Company 1912 – 1914 ?
Charles Kapps , Slocan Bottling Works Kaslo B.C.1892 – 1908
Chris Morley New Westminster1886 – 1894
Christopher Morley Yates St.1872 – 1873 Waddington Alley 1882 – 1911 Victoria B.C.
Clapp & Co. East Kooteny Bottling Co. 1900 – 1907 Cranbrook b.C.
Columbia Bottling Works Columbia B.C.1900 – 1901
Columbia Bottling Works Rossland B.C.1900 – 1935
Colwood Hygienic Mineral Water Works Colwood B.C.1910 – 1916
Cosmi A. Bigney (Sandon Bottling Works ) Sandon B.C. 1901 – 1919
Country Club Beverage Co.LTD 1460 Burrard st.1931 – 1950 s
Cross & Co. 503 Hornby , 1067 Richards Vancouver BC.1900 – 1963
Crown Bottling Works 3rd Ave & 6th St. Prince Rupert B.C.
Crystal Spring Water Supply 1244 Richardson St. Victoria B.C.1912 – 1976
Deep Rock Springs Bottling Works Trail B.C.1896
Dobson & Caldicott Kamloops B.C.1914 – 1916
Duncan Botanical Brewery Duncan B.C.1910 – 1912
East Kootenay Bottling Co. Clapp & C0. Cranbrook B.C.1900 – 1907
Emily Beatty McKay Stn. West Burnaby B.C. 1914 ?
Fairall Esquimalt Rd.Victoria West B.C.1897 – 1908
Fairall's LTD. Esquimalt Rd. Victoria West 1917 – 1922
Fernie – Fort Steele Brewing Co. Ltd. Fernie B.C. 1900 – 1910
Fitzgerald & Day Sandon , 1896 – 1900
Francis J. Gook 4251 Prince Albert St. Vancouver B.C. 1914 – 1925
Frank Counter , Kamloops Bottling Works Kamloops B.C. 1897 – 1922
Graham Aerated Water Co. 655 W. 13th Ave. Vancouver B.C.1914 – 1918
Greenwod & Morley Victoria B.C. Wharf St. Victoria B.C.1874 – 1881
Greenwood Bottling Works Greenwood B.C. – ?
Greenwood Liquor Co. Greenwood B.C.1900 – 1907
H & K Trading Co. LTD Penticton B.C. 1913
Halcyon Hot Springs Halcyon B.C. 1914
Henry Hogan Columbia St. New Westminster B.C. 1867 – 1882
Huson & Wilcox New Westminster B.C. 1884 – 1887
Imperial Brewing Co. Kamloops B.C. 1880 – 1930
J.H. Falconer Bennett B.C.1900 – 1904
J.H. Piket Cumberland B.C.1899 – 1904 – ?
J.M. Freymouth Armstrong B.C.1913 – 1915
James Kerrigan Cranbrook B.C.1910 – 1914
John Mitchell Bastion St. Nanaimo B.C.1882 – 1897
Joseph Henley Cunnigham St., 717 Princess New Westminster B.C. 1887 – 1929
Kamloops Bottling Works 143 Main St.,Kamloops B.C. 1897 – 1920
Kelowna Canning Co. Kelowna B.C.1910 – 1914
Kirk & Co. Esquimalt Rd.Victoria West B.C.1908 – 1914
Kirk Soda Water Co. Esquimalt Rd.Victoria West B.C.1915
Kooteny Brewing Malting & Distilling Co LTD. Trail B.C. 1897 – 1937
Le Roi Brewing Co Rossland B.C.1897 – 1918
Lion Bottling Works Bridge St. Grand Forks B.C.1900 – 1914
Lion Bottling Works Greenwood B.C. – Rossland B.C. 1900 – 1905
Louis Hautier Johnson St.Victoria B.C.1860
Louis Lawrence 256 Wallace St. Nanaimo B.C.1892 – 1903 Courtney B.C. 1900 – 1904
M.J.O'brien Vernon B.C., Revelstoke B.C.1897 – 1918
Meikle Bros.Vancouver Soda Water Works 704 Westminster Ave. ,719 Gore Ave. 1886 – 1908
Mrs.Jerome B.Wolfe Vancouver B.C.1914
Murchison & Derraugh Vancouver 1888-1890
Murchison & Murtrie vancouver 1887
Nelson Bottling Works – Pacific Dry 225 E. 5th Vancouver B.C.
Neson Soda Water Factory Hoover St. Nelson B.C.1896 – 1907
Okanogan Carbonating Co. Naramta On Lake Okanogan B.C. 1912 – 1914
Okanogan Valley Soda Water Works Vernon B.C.1904 – 1908
Pacific Bottling Works Vancouver B.C.1900 – 1920
Parkes Soda Water Co. 1026 Clark Drive Vancouver B.C.1909 – 1910
Paul Bocian Johnson St.Victoria B.C.1869 – 1871
Phillips Bros. Yates St. 1896 – 1898 Victoria B.C.
Phoenix Brewing Co. LTD. Phoenix B.C. 1899 – 1910
Regal Mineral Water Co. Hereward Rd.Victoria West B.C.1913 – 1915
Revelstoke Wine & Spirit Co Revelstoke B.C.1901 – 1912
Royal Bottling Works Hazelton B.C.1914
S.W. Seed New Denver B.C.1896
Salmon Arm Aerated Water Co Salmon Arm B.C. – ? 1915
Sandon Bottling Co Sandon B.C.1897 – 1912
Sealy & Baker Kamloops – Near Kamloops , 1891
Sidey Brown Hedley B.C. 1912
Similkameen Bottling Works Princeton & Hedley B.C.1907 – 1913
Slocan Bottling Works Slocan City B.C. 1897 – 1898
Slocan Bottling Works Chas J Kapps & Chappell & Kapps Kaslo B.C.1892 – 1908
Stanley Park Brewery Park Rd. off Georgia Vancouver B.C. 1896 – 1905
Sylvester & Duprat Kamloops B.C.1889
T.J.Walker Vancouver B.C.1914
Thomas Brooks 624 Frances Ave. Victoria B.C.1909
Thomas Shotbolt Johnson St. West of Government St Victoria B.C.1864 – 1871
Thorpe & Co. Vancouver B.C.1889 – 1935 , Victoria B.C.1892 – 1923 ,Nelson B.C.1897 – 1923
Trail Bottling Works Trail B.C.1896
Trout Lake Soda Water Aerated Works Trout Lake B.C.1904 – 1907
Vancouver Botanic Beverage Glen Dr. – 27th & Main Vancouver B.C.1915 – 1924
Vancouver Breweries 11th & Yew St. Vancouver B.C. Early 1920 s
Vancouver Soda Water Works (M & D) Calley & Co. Ltd. Vancouver BC 1886-1908
Victoria Botanic Beverage 2620 Cedar Hill Rd Victoria B.C.1911 – 1926
W. Fortune Kamloops B.C.1891 – 1894
W. J. Blackwell & Co. Slocan B.C.1897 – 1898
W. L. Ross Spokane St. Rossland B.C 1887 – 1898
W.E. Rumming Wallace & Wentworth St.Nanaimo B.C.1900 – 1954
Walhacin Dry Belt Settlement Utility Walhachin B.C.1910 – 1914
White Seal Bottling Co. 117 W. 1st North Vancouver B.C.1913 – 1916
Wisdom Aerated Waters Co. Armstrong B.C.1913 – 1915
References:
[i] https://search-bcarchives.royalbcmuseum.bc.ca/drink-thorpes-soda
[ii] https://searcharchives.vancouver.ca/thorpe-and-co-display-of-beverage-products
https://searcharchives.vancouver.ca/thorpes-truck-delivering-to-la-fonda-restaurant-at-2731-west-4th-avenue
[iii] The British Columbia Gazette, January 1 1894, Vol. XXXIV, p. 214.
[iv] https://vancouver.ca/files/cov/mount-pleasant-historical-themes.pdf
[v]Barratt, R. F. (2013).  The Soft Drink Industry, The Canadian Enyclopedia https://www.thecanadianencyclopedia.ca/en/article/soft-drink-industry; Soft Drinks Their Origins and History, ebook https://www.britishsoftdrinks.com/write/MediaUploads/Soft_Drinks_Their_Origins_and_History.pdf
[vi] Society for Historical Archeology (SHA) https://sha.org/bottle/glossary.htm; http://www.freepatentsonline.com/0468258.pdf
[vii] http://bchistorycollectables.blogspot.com/2014/11/vintage-signs-old-bottles-and-news-for.html
[viii] http://theouthouse.ca/outhousewp/product/thorpe-soda-ja_11_15/
[ix] https://www.nostalgicportal.ca/pioneercompanies.html.
The list was drawn from Bill Wilson's research and writing.  To order Wilson's most recent book, see:  https://bcantiquebottles.com/soda-kings-of-b-c-the-yukon/