Gellatly Nut Farm
If you live in the Okanagan, you are probably familiar with Gellatly Nut Farm Regional Park on Okanagan Lake in West Kelowna (Westbank). Fall is an ideal time to visit and you can harvest nuts that fall to the ground when they are ripe[i]. What you may not know is the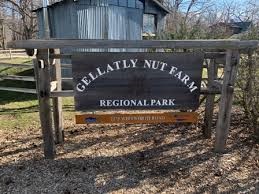 Gellatly brothers, David Jr. and John Ure (Jack) Gellatly were world-renowned nut breeders.
Their parents David Erskine Gellatly and his wife Eliza with son, David Jr. immigrated from Scotland in 1883 to Ontario where John Ure (Jack) was born. They then moved on to British Columbia, where David Sr. worked as a carpenter and farmed various leased properties until he was able to obtain farm land for his growing family. On rented land near Fintry he planted potatoes and tomatoes and shipped the first potatoes out of the Okanagan for market. His potatoes were of such good quality, they earned him the name of Potato King of the area. Later he gained a similar title for the tomatoes he grew on the land where the regional park is now located, part of the traditional territory of the Okanagan People on Okanagan Lake. He built a box factory and a packing house and a wharf that enabled him to ship produce to a wholesale distributing warehouse he opened in Calgary in 1915. Then in 1919, a tragic fire destroyed all the production buildings and equipment. The fire insurance expired just days earlier and had not been renewed. This dealt a huge financial blow which may have led to his early death in 1922.[ii]
The two sons learned the basics of farming from their father but their main interest was in nut growing.  As early as 1905, David planted the trees and developed a nursery. His brother John Ure (Jack) Gellatly, then living in the United States, searched for hardier nut trees that would be suitable for northern climates. Jack travelled across the United States and British Columbia, seeking out different varieties of nut trees that held promise for success in the Okanagan Valley. As he collected scion wood (mature dormant shoots usually of the previous season's growth used for grafting) from various nut varieties, he would send them to David who would propagate them. Jack returned to the farm in 1920 where he and his brother continued to pursue nut growing. Jack was the experimenter and breeder. He brought in stock from all over the world and crossed them with domestic varieties, devoting most of his life to experimenting with the growing, breeding and propagation of numerous nut crops for colder climates. He developed more than 36 varieties, selections and hybrids of hazelnut, at least five strains of Japanese heartnut, several Buartnut (a hybrid of the Japanese heartnut and butternut trees), the "Broadview" walnut, and several chestnut selections (edible sweet chestnuts not horse chestnuts). Today, J.U. Gellatly varieties, selections and hybrids are grown throughout the world and can be still be found in commercial orchards.[iii]
Jack was very active in the Northern Nut Growers Association servings as vice president for the British Columbia region for many years and he wrote numerous journals and articles for this and other publications. His research and documentation of nut trees frequently appeared in annual meeting reports. The proceedings from the 41st annual meeting held in 1950 at Pleasant Valley, New York had a report on Effects of the Winter of 1949-50 on Nut Trees in British Columbia and also these two recipes[iv]:
Walnut Honey Sandwich
1 Teaspoon crystallized Honey (the coarser the crystals the better)
3 Broadview walnut half kernels or quarters.
Place honey on one-half kernel, then stick the other half on the honey, making a small sandwich, or kernel covered ball of honey. This is a delightful confection.
Potato Nut Soup
Grate 1 tablespoon onion. 2. Grate 1 good-sized potato.
Place in double boiler, stir while adding boiling water, to a thin paste. Stir until cooked clear, like corn starch pudding. Add hot whole milk to bring to creamy soup. At this stage add one-fourth cup filbert kernels. First put nuts through one of the new nut planning gadgets. These are better than the old grinder shredders or choppers, as shavings are so thin and soft they just melt in hot liquid. (Also delightful on ice cream or fresh fruit.) Have potatoes well cooked before adding milk or nut flakes. Cooking nuts too long sets up some chemical change that thins the creamy texture of the soup.
The first recipe I can see making as a treat as it is very sweet and candy like.  For the second, I was wondering what "the new nut planning gadgets" were. All I could find in a quick search were nut choppers. I didn't test the recipes.
J.U. (Jack) Gellatly  strongly believed in the benefits and economic profitability of nut trees. An article in Macleans magazine in 1930 described him as the "Apostle of Nut Growing" for his passion for reducing Canada's dependence on imported nuts. He is quoted as saying "The Dominion has no commercial nut production and pays other countries five million dollars a year for nuts, the greater part of which she could be producing herself."[v] His slogan on farm flyers and price lists read "For Beauty, Shade and Profit – Plant Gellatly's Northern Nut Trees" and he traveled throughout British Columbia promoting nut growing as an upcoming industry[vi].
The Gellatlys were determined to show that nuts could be grown in BC and nut growing could be a commercial enterprise but it didn't materialize the way fruit growing did.[vii]  However their heritage lives on in the Gellatly Nut Farm Regional Park, a 4-hectare park located on the shores of Okanagan Lake in West Kelowna supported by the Gellatly Nut Farm Society. There you can take a self-guided tour and in the autumn months harvest or purchase nuts. If you are unable to visit you might try a virtual tour.[viii]
A few years ago, when I was complaining about how hard it was to get fresh walnuts for baking, a friend of mine showed me a bag of walnuts she had brought from her parent's retirement property in Summerland. Up to then it had never occurred to me that walnuts could be grown in BC. Now I think there is a good possibility those walnuts were a result of the passion for nut growing of the Gellatly brothers.
[i]The Gellatly Nut Farm Regional Park,  https://www.regionaldistrict.com/your-services/parks-services/parks-and-trails/7-gellatly-nut-farm-regional-park.aspx
[ii]The Westbank Museum, https://westbankmuseum.com/gellatlyfamily/; Gellatly, D. H. (1932). A bit of Okanagan history. doi:http://dx.doi.org/10.14288/1.0374179
[iii] Welsh, M. Peters, W. (1984). Nut Culture in British Columbia. Ministry of Agriculture and Food; Brown, F.. (2012). Gellatly Nut Farm Regional Park Tree Inventory And Heritage Orchard Management Plan. BA Blackwell and Associates. https://www.regionaldistrict.com/media/93047/GNFHeritageOrchardManagementPlan.pdf; Clarke, D. (2003). Gellatly Nut Farm Regional Park Concept Plan. ForCon Consulting Services. https://www.regionaldistrict.com/media/27810/Concept_Final.pdf
[iv]   Northern Nut Growers Association (1950). Northern Nut Growers Association Report of the Proceedings at the 41st Annual Meeting. https://www.gutenberg.org/ebooks/26013
[v]  Chicanot, E. L. (1930, Oct.1), The Apostle Of Nut Growing. https://archive.macleans.ca/article/1930/10/1/the-apostle-of-nut-growing
[vi] Chamberlain, F. & Foster-Sexsmith, J. (2006). Gellatly Nut Farm Regional Park –Westbank, British Columbia. Sitelines, (October),13-15.  https://www.bcsla.org/sites/default/files/sitelines_issues/OCTOBER06.pdf
[vii] https://infotel.ca/newsitem/why-okanagan-nuts-never-blossomed-into-a-commercial-crop/it74568
[viii] www.realbigtours.com/tours/tour.cfm?tourID=2685&statsUpdated=Y&TWH=500