Woodward's Food Floor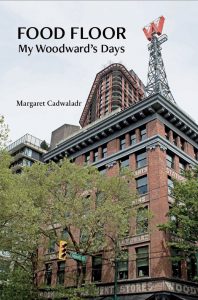 I recently reviewed Food Floor: My Woodward's Days by Margaret Cadwaladr[i].  It's a  memoir of the author's experiences, as a high school, then university student, working part time on Woodward's Food Floor in Vancouver, in the late 1960s and early 70s.  It is a little book (only 65 pages) of stories and pictures about what it was like to be involved in a full service grocery store in a department store in that time. It makes a nice memory book for anyone who worked at Woodward's or was a faithful Woodward's shopper.
It gives a glimpse of how Woodward's Food Floor changed grocery shopping and alerted me to the fact that by 1952 Woodward's Food Floor was the largest grocery store in the world (p. 3). I thought I'd dig a bit more into the history of the store and grocery retailing.
Charles Woodward came from a family of farmers and first got into storekeeping at the age of 23 with his brother-in-law, in the farming community of Manitoulin Island in Lake Huron in 1875. That venture was not successful but he continued for the next 18 years to open small stores in various communities in northern Ontario, learning the trade as he went. He made he way to Vancouver in 1891 and opened a small store the following year at the corner of Harris Street (now Georgia) and Westminster Avenue (now Main). At the time it was the main thoroughfare leading to the rapidly growing town of New Westminster. It was always a struggle to be profitable, so in 1902, following the advice of his lawyer, he incorporated a new company with six associates: Woodward's Stores Limited. The new company opened its store at the corner of Hastings and Abbott streets in Gastown the following year. The partnership quickly soured, however, and by 1904, Charles had decided to sell his original store and use the proceeds to buy out his partners' stakes in the new company. That made the store at 101 Hastings, the flagship store as the company expanded to other cities. It took up a whole block and eventually rose to six stories, with 700,000 square feet of retail space making it the largest store in Vancouver. It operated there until it closed in 1993.
Expansion started in 1922, when Charles Woodward decided to visit Edmonton to get a feel for the city. Impressed with what he saw, he registered C. Woodward (Edmonton) Ltd. in June of that year. Four years later in 1926, a store opened in downtown Edmonton, and engaged in a fierce battle with local retailers. The greatest expansion in BC and Alberta began in the late 1940s and 1950s and continued into the 1960s and 70s, often as anchor stores in shopping centers such as the Chinook Centre and Market Mall in Calgary, or the Southgate Centre and the Edmonton Centre and South Gate Center in Edmonton, Oakridge Center in Vancouver and Park Royal Center in West Vancouver. Eventually there were 18 stores including in Victoria (1945); Port Alberni (1948); West Vancouver (1950); New Westminster (1951;1974); Oakridge Mall, Vancouver (1959); Calgary (1960); Mayfair, Victoria (1963); Edmonton (1965; 1970); Kamloops (1964); Prince George (1966); Surrey (1966); Abbotsford (1975) Richmond (1977); Coquitlam (1979).
Upon Charles Woodward's death, his two sons ran the business. William ("Billy") was the financial expert and president and Percy Percival Archibald Woodward, ("Mr. P. A.", "Percy", or "Puggy") handled the merchandising end. Eventually William's son, Charles "Chunky" Woodward, took over the family business as president in 1957.
The recession during the 1980s hit Woodward's harder, perhaps, than any other retailer. The rapid expansion of the preceding years, including the opening of four stores in 1981 alone, left the company financially fragile. In a bid to improve its situation, Woodward's immediately began disposing of assets including surplus land and buildings, and implementing various cost-saving measures.  In 1986, the company took the radical step of selling its Food Floor operations to Safeway Canada. In 1989, management passed from members of the Woodward family into the hands of professional managers and the company filed for bankruptcy in 1992. When the once great department store on Hastings Street closed its doors on January 15, 1993, it was the end of a great tradition[ii].
The Biggest Food Floor Under One Roof In The World.
The first Woodward's on Hastings Street included partners such as a jeweler, butcher and pharmacist and was the genesis of what we now call a department store. While Woodward's was trendsetting in retailing, what intrigues me most are the innovations related to selling food. The food floors were always an important part of Woodward's stores and they are known for their many "firsts."
             The First in Self-Serve
 Grocery shopping at the turn of the 20th century was a "counter service" affair. Items for sale were behind a counter, and you'd be "waited on" by a clerk in a white apron or jacket. The clerk would take the products from the shelves, behind a counter and assemble your order. People often shopped at separate, small stores for each category of food – "greengrocers" (for produce), dairy shops, butchers, fishmongers and grocers that exclusively sold dry,  packaged goods like canned food.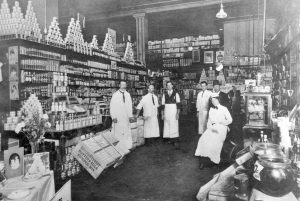 Interior of Woodward's Grocery Department at 101 West Hastings Street and Abbott Street, 1904[iii]
According to the Canadian Encyclopedia "the store was a grand success, partly because of its famous Food Floor, the first self-serve food floor on the continent."[iv] The self-service started in 1919.  However the "first" claim could be contested.  In the US , Piggly Wiggly was the first self-service grocery store patented in 1917.  In Canada, the Canadian Grocer reported when Loblaw Groceterias opened on Dundas Street in 1919, the customers picked up a basket and selected their groceries themselves.[v]  So perhaps it needs to be qualified, as the first self-serve food floor as part of a department store and it was definitely the first self-serve food store in Vancouver.[vi]
It was Mr. P.A.'s idea and it is described in a 1952 McLean's article this way:
He ripped out the grocery counters, trucked in kitchen tables, loaded them with groceries, cut prices fifteen percent and ran for cover. The first day was such a success the butcher got drunk and there was no meat the second day. But on the third day and the days thereafter the food floor was like a three-ring circus. It. occupied only twenty-five hundred square feet then.
 From then on, the customers were allowed to pick up items by themselves and the Food In the days when grocery stores were small and crowded, this expansive emporium was a sensation. This innovation involved putting price tags on many items, allowing customers for the first time ever, to know the price of the goods before buying them. It also required checkout service with mechanical cash registers (which gave way to electronic cash registers in the early 1970s). Also new were baskets and eventually shopping carts (which were invented in the late 1930s) for customers to gather the items they wanted.  The Foods Floor would eventually expand to over sixty thousand square feet and take up the entire lower main floor.
Woodward's Food Floors Postcard, Vancouver, British Columbia, c. 1953[vii]
            A Culture of Service
Besides being a full service grocery store as part of a major department store, Woodward's Food Floor had several other unique features that fostered a culture of service.  A few examples:
 Catalogue/Mail order service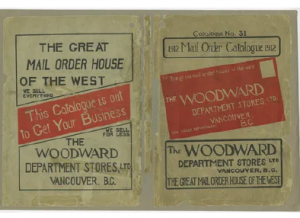 Early catalogue c. 1900-1910
Calling itself "The Great Mail Order House of the West," Woodward's established a mail-order department in 1896 and published its first catalogue in 1897[viii]. Although they focused on the "West", Woodward's closely identified itself with BC boasting in the spring-andsummer 1923 catalogue: "B.C. trade can be served best by a B.C. store."[ix]In 1902, and after opening its first food center, the company also started to issue separate food catalogues.
Woodward's Mail Order Groceries[x]
"Write for Anything. We are Almost Sure to Have it. Anyway, we'll get it," was printed in the catalogues. A MacLean's feature story published in 1951 gave a few examples" Homesteaders could ask Woodward's mail order department to buy headstones and even place the headstones on graves for them and Woodward's would do it;  a 300 pound wedding cake was sent to Bella Bella; a queen bee was sent to an apiarist in the Fraser Valley[xi].  Miners, logging camps, police outposts, and even teachers going to places like Telegraph Creek would order 6 months to a year's worth of groceries and Woodward's would dispatch them[xii].
Twice a day local deliveries – Customers were able to phone in a grocery order and they would receive their delivery that afternoon. 
Catering to the automobile – Woodward's added a covered parking garage in 1930 with a pedestrian tunnel connecting it to the Food Floor. The Woodward's Food Floor had a conveyor system from the cash registers out to a structure in the parking lot. Upon request, the bag boys would pack customers' groceries into numbered bins and send the bins through the conveyor system. Then customers would take tags with matching numbers out to the structure, and more bag boys would load the groceries from the matching bins into the customers' cars[xiii].
In 1910, the store had its first single-price sale: 25 Cents Day. The price rose over time –  it's best remembered as $1.49 Day, imprinted on the public mind with a catchy radio jingle.[xiv]
 Woodward's sold food that carried their brand.  Some products were made in house, such as their peanut butter, others were from local producers with a Woodward's label. They were known for their good quality and fair price[xv].
Woodward's private label brands were beloved by shoppers, found in pantries and fridges across Western Canada. [xvi]
In addition to Branded food products, Woodward's had four house brands, Woodsonia, Woodcrest, Mercury, and Transonic. Woodsonia was the line for the best quality and value items, used for the hardgoods divisions such as hardware, housewares, small appliances, furniture, appliance and drug items. Mercury was Woodward's house brand for bicycles, trikes, wagons and sporting goods items. Woodcrest was Woodward's house brand for domestic department, and drug store department items. Transonic was Woodward's house brand for TVs and electronic items[xvii].
 The World in a Grocery Store
 The food floor was a prominent feature in Woodward's annual Shop Around the World promotion. It was known for having ingredients from around the globe and often considered exotic all year round. They prided themselves in stocking hard to find specialties not available anywhere else.
Associated with the food floor was the distribution of free recipes and culinary advice by food consultants/home economists under the made up persona of  "Bea Wright". In 1954, a display kitchen was opened on the sixth floor for cooking demonstrations.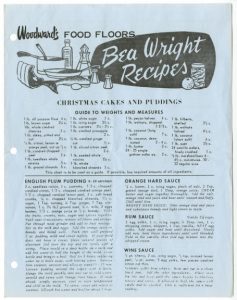 In the 1960s, Mona Brun [xviii] became the face of Woodward's in the store and on a TV cooking show, Culinary Capers, sponsored by Woodward's.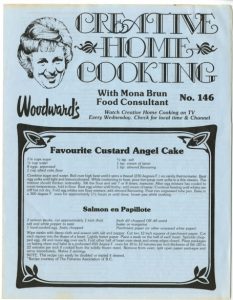 This rather cursory re-visiting of Woodward's Food Floor was inspired by Cadwaladr's book.  It is a reminder of a time when grocery shopping was a social experience and food stores were dominated by a culture of service. These qualities seem to have disappeared in the current era of wholesale style big box stores, self serve check-outs, and on-line shopping.
Whole books and theses have been written about Woodward's[xix] and there are many more stories to be told.
References
[i] Cadwaladr , M. (2020). Food Floor: My Woodward's Days, Langley BC: Madrona, https://foodfloordays.com/
[ii]The Canadian Encyclopedia. Vancouver Feature, Pioneer Retailer Opens Woodward's. https://www.thecanadianencyclopedia.ca/; Style Democracy. Remembering 4 long-lost Canadian Retailers. https://www.styledemocracy.com/canadian-retail-history/;  Hudson's Bay Company History Foundation. Woodward's https://www.hbcheritage.ca/history/acquisitions/woodwards-stores-ltd; The Department Store Museum. Woodward's http://www.thedepartmentstoremuseum.org/2010/11/woodwards-stores-ltd-vancouver-bc.html;  Mackie, J. (2018, Sept. 7). This week in History: Woodward announces building a new store. Vancouver Sun; Woodpens, a club formed by Woodward's retirees. http://www.woodpensclub.com/history.htm
[iii] Source: https://dailyhive.com/vancouver/vancouver-department-stores-archive-photos-october-2016
[iv] https://www.thecanadianencyclopedia.ca/en/article/vancouver-feature-pioneer-retailer-opens-woodward-s\
[v] https://www.tvo.org/article/how-a-radical-idea-turned-loblaws-into-a-supermarket-empire
[vi] Shackles, K. R. (2015, April 30). Around the corner: the life and death of Grandview's corner grocery stores [R]. doi:http://dx.doi.org/10.14288/1.0103585
[vii] Source: http://openmov.museumofvancouver.ca/object/history/h20141245
[viii] Canadian Museum of History  – https://www.historymuseum.ca/cmc/exhibitions/cpm/catalog/cat2408e.html; Richeson , D. (1978). "Woodward Stores Limited. The Shopping Guide of the West: Woodward's Catalogue 1898-1953; Hudson's Bay Company. The Autumn and Winter Catalogue 1910-1911 of the Hudson's Bay Company". Material Culture Review 5 (January). https://journals.lib.unb.ca/index.php/MCR/article/view/16972.
[ix] Cole, C. Woodward's, in Before E-commerce: A History of Canadian Mail-Order Catalogues. Canadian Museum of History, https://www.historymuseum.ca/cmc/exhibitions/cpm/catalog/cat2408e.htm
[x] Source: https://www.hbcheritage.ca/history/social-history/catalogues
[xi] Reynolds, M. (1952, April 1).  Eighteeen Acre Corner Store, Macleans; https://archive.macleans.ca/article/1952/4/1/eighteen-acre-corner-store
[xii] Thompson, L. (2005). The social life of things: a case study of the Woodward's Department Store (Doctoral dissertation, University of British Columbia).
[xiii] http://www.woodpensclub.com/history.htm; Cadwaladr , M. (2020). Food Floor: My Woodward's Days, Langley BC: Madrona, https://foodfloordays.com/; Shackles, K. (2015). From Around the Corner: The Life and Death of Grandview's Corner Grocery Stores. UBC Undergraduate research https://open.library.ubc.ca/cIRcle/collections/undergraduateresearch/52966/items/1.0103585
[xiv] McManus, T. (2018, Feb. 24). Woodward's famous $1.49 Day jingle celebrates 60 years (VIDEO), Vancouver is Awesome. https://www.vancouverisawesome.com/courier-archive/community/woodwards-famous-149-day-jingle-celebrates-60-years-video-3068459
[xv] Cadwaladr , M. (2020). Food Floor: My Woodward's Days, Langley BC: Madrona, https://foodfloordays.com/
[xvi] Image sources: peanut butter, https://www.icollector.com/; canned vegetables, – https://walshcooks.com/2018/02/25/marmalade-and-woodwards/; cottage cheese, Royal BC Museum Food History Project, https://royalbcmuseum.bc.ca/
[xvii] http://openmov.museumofvancouver.ca/object/history/h976161; http://www.woodpensclub.com/history.htm
[xviii] https://bcfoodhistory.ca/mona-brun-james-barber/
[xix] Harker, D. E. (1958). The City and the Store. Vancouver: Woodward's, 1958; Harker, D. E. (1976) The Woodwards: The Story of a Distinguished British Columbia Family, 1850-1975. Vancouver: Mitchell Press; Dowling, Robyn Margaret. Shopping and the construction of femininity in the Woodward's department store, Vancouver, 1945 to 1960. Diss. University of British Columbia, 1991;Thompson, L. (2005). The social life of things: a case study of the Woodward's Department Store (Doctoral dissertation, University of British Columbia).