Depression Recipes
A recent request on the Culinary Historians of Canada facebook page for Depression-era  recipes inspired me to write this post about thrifty foods of Western Canada (and possibly other parts of Canada as well), during the Great Depression of the "Dirty Thirties" (as my mother called the  years between 1929 and 1939). Some wealthy people profited from the economic depression, but for most people, the number of eggs in a cake recipe mattered. "Do, make do, or do without" was my mother's mantra for those years.
It might be hard to imagine a time when the number of eggs used in a cake genuinely mattered.  Some people on farms had plenty of eggs, butter and milk, but for others, selling those products was a major source of cash. The one egg and two egg cake recipes are from the 1932 edition of Foods, Nutrition and Home Management Manual, written by Jessie McLenaghen and a group of BC teachers, and distributed widely to home economics students in BC and across Canada.  The students were generally in grades 7 – 9, and the recipe assumes a teacher's presence or previous knowledge. The procedure states – follow general rules – and these are listed separately from the ingredients for a variety of cakes. [click on each image to see recipes in more detail].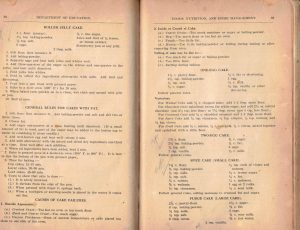 The next recipe is for hash, a one dish meal of ground-up leftover roast, potatoes and vegetables).  It's part of my family story.  My mother started her married life in 1935 as a farmer's wife, living in a converted granary. Before that she considered herself lucky because she had taught school for five years, first at a school west of Edmonton, and then at Bon Accord, Alberta, where she was hired because she could teach Latin. The Depression habit of saving little bits of leftover food in small bowls in the fridge persisted her entire life. Her thriftiness transferred to her eldest daughter (not me). I remember my sister's hash (a one-dish meal of ground meat, potatoes and vegetables)- produced out of scanty provisions when the month lasted longer than the student stipend she and her family lived on for a couple of years. My sister's  husband (who grew up in the city) was amazed.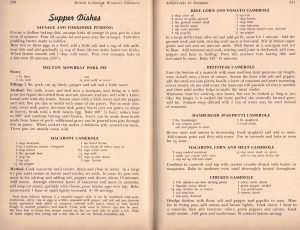 The foregoing recipe is from the BC Women's Institute Centennial Cookbook (1958). Although none of the recipes include the word "hash", they all extend precious protein by using crackers, corn, and other sources of carbohydrates.
I found one recipe for hash casserole in Centennial Cook Book: Canada's Favourites (1967) assembled by the Federal Women's Committee of the New Democratic Party.  It includes a hash casserole (p. 115) in addition to many other money-saving recipes.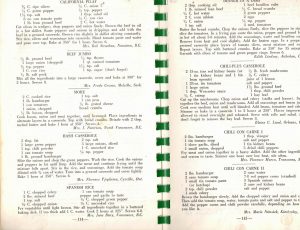 The hash casserole uses more convenience foods than true Depression Recipes, and in particular, uses ground beef.  Still it provides a filling meal for relatively little cost.
Most people won't use left-over ground up roast for hash. There won't likely be leftovers if a person can afford to buy a roast. But some of us may be able to replicate some form of thrifty Depression Recipes.
Afternote from Linda Peterat:
The idea of Depression Recipes sent me to search through my cookbook collection to find Choice Tested Recipes from 1933, created by the Relief Committee of the Revelstoke United Church. The recipes are not extravagant but they do rely on milk, butter and eggs along with fresh garden produce. For example note recipes for mock mayonnaise, jellied veal and pork mold, and scotch eggs. Baking relies on raisins, coconut, walnuts, dates and common spices. [click on the link for the cookbook].