Creative Gifts from the Kitchen 
The pandemic and supply chain issues have many people seeking out more personalized, thoughtful, homemade gifts.  Creative gifts from the kitchen in the form of recipe and food items, provide ideas for many gifts through food history.
Framing Family Recipes
Chrissy Smith, a home economics teacher and graduate of the Masters of Education in Home Economics at UBC, included this example in her graduating project on Food Literacy.  She writes about putting a precious recipe, written in her grandmother's hand, into a frame.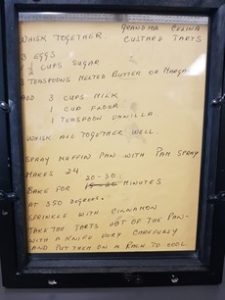 My maternal grandmother had made these custard tarts for me and my family many times, but I didn't know how to make them as a young girl. [When I expressed an interest] she grabbed the closest thing to her (a notepad my dad received for his birthday) and started writing the recipe down on the back from memory. She wrote the instructions down in a procedural format while I followed her instructions, gathering equipment and ingredients in my family's kitchen. [You can see] the stain on the paper (100% my fault) and the change in baking time because my parents' oven was not as hot as hers, so it took longer to cook.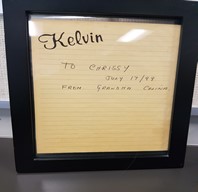 While we were cleaning up, she flipped the paper over and wrote the date on it as a reminder and as a gift to me. My grandmother has since passed away but the recipe holds fond memories of being together in the kitchen. (Smith, 2021, p. 41)[i]
Gifts of Food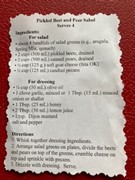 A few years ago my niece, Pam Sargent,  and I started a little tradition we called "gifts from the kitchen".  Every December we set aside one day where we cooked and made crafts all day. We made a variety of foods, for example preserves (e.g. salsa, pickles, jelly); Christmas cookies; chocolates and candy; granola; herb and spice mixes.  Sometimes we included a recipe using the items, such as a jar of pickled beets with a jar of canned pears and a package of candied walnuts or pecans to make pickled beet and pear salad.
Printing Family Recipes on Fabric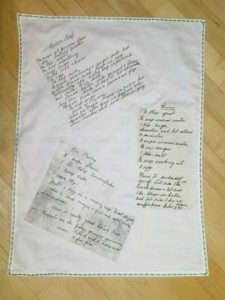 One project we really enjoyed involved getting recipes from Pam's maternal grandmother written in her own hand and transferring them to tea towels for her mother, aunts, and cousins.
We thought another time we might print it onto aprons.
Pam's grandmother's baking was legendary in her family and there was always talk of collecting them in a recipe book much like the next example.
Collecting Family Recipes in a Book
Linda Peterat (one of our BC Food History members) and her sister compiled family favourites from their mother's recipe books, clipping collection, and handwritten recipes in a coil-bound scribbler.  Some of the recipes were re-typed and some were included "as is", dog eared from years of use.  The book was illustrated with family pictures and proverbs that were part of their growing up, such as "if you take care of your things, your things will take care of you", "waste not, want not" and "it's better not to put all your eggs in one basket".  A wonderful gift of family food history.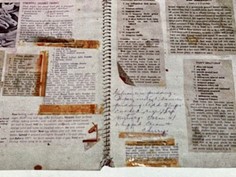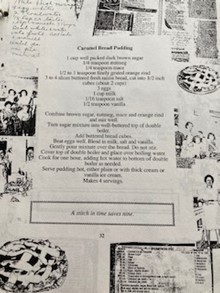 Recipes are valuable heirlooms.  They hold stories, traditions and flavors of ancestry, culture and lived experiences. When a beloved relative's recipes are passed on to others, it creates an intergenerational dialogue  laden with family stories and historical awareness. The recipes become an archive of family memories.
.[i] Smith, C. (2021).  More than Just Cooking: A Home Economics Educator's Reflective Exploration of Food Literacy [Unpublished Master's Major Paper, UBC Faculty of Education].