Pioneer Pudding and The Delights of Community Cookbooks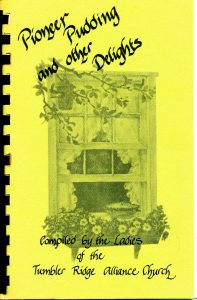 When I turn to my collection of community cookbooks, there are so many possibilities to write a blog about but today I was drawn to "Pioneer Pudding", written by the Tumbler Ridge Alliance Church in the 1980s. Community cookbooks often give us some history of the community. At least we learn about the foods a segment of that community was eating in the era the book was written. The recipes always surprise and often evoke memories of where we were and what we were eating and cooking in the same era.
Tumbler Ridge today is about adventures, jaw dropping scenery and dinosaurs (tumblerridge.ca) but back in the early 1980s it was described as an "instant town" – home of the Northeast Coal Development with two mines: Quintette Coal Ltd. and Bullmoose Operating Corp. The coal industry drew people from a variety of backgrounds and former residences. The population grew from 300 in February 1983 to almost 3000 in February 1984. "As a result, much of the local entertainment has been meeting new friends and neighbours – and in true pioneer style includes FOOD, from tea and cookies to full course cooperative meals."[i] Because of the kind of community Tumbler Ridge was, a new greeting evolved: "May I have your recipe?" and this became a reason for creating the Pioneer Pudding community cookbook. Tumbler Ridge was a booming coal town for a short period in the 1980s then the industry declined. The economy diversified somewhat and the population stabilized around 2,000 people.
At first glance Pioneer Pudding appears like other community cookbooks. It offers a total of 196 recipes under headings of: Appetizers (6), Drinks (9), Breads & Muffins (19), Cookies & Cakes (36), Desserts (16), Jams & Preserves (10), Kids & Kandy (13), Main Dishes (30), Pies & Pastry (12), Salads (12), Sauces, Gravies & Dressings (12), Soups & Sandwich Spreads (11), Vegetables (10), and Tumbler Tips that includes instruction for cleaning, food-skin care, metric measures, substitutes, and high altitude baking. Ten women from the community contributed the recipes[ii], with illustrations by Dana Johnsen.
Many of the recipes are trendy 1980s food, for example there are two recipes for slushes, and recipes included for Anadama Health Bread, Granola, Tomato Soup Cake, Dream Slice, Beef Stroganoff, Chicken Cordon Bleu, Pizza, Lasagne, Baked Beans, Butter Tart Squares, Three Bean Salad, and 7-Up Salad.  Few recipes could be considered as originating outside of Canada although there is one recipe for Mexican Fruitcake and one for Spanish Cinnamon Cake.
The section in the cookbook titled "Kids 'n Kandy" may attest to there being many children and young families in Tumbler Ridge in the early 1980s. This section contains a recipe for Peanut Butter Playdough and suggests it can be eaten although definitely not recommended these days! There are recipes that make vegetables more appealing to children and six recipes for candy and sweet treats. There are four recipes and diagrams for preparing and assembling novelty cakes often used for children's parties or birthdays. Instructions are for a Daisy Cake (made from 2- 9 inch round cakes), Woofy Dog Cake (cut from a 9 X 13 inch cake), Tiger Cake (from 3 cupcakes and one 9 inch round cake), and a Cuddly Bunny Cake (from 2- 9 inch round cakes).
Two unique recipes are included in this cookbook. One that I have not seen before claims to be from the middle ages and is like a pound cake only titled Nuns' Cake.  Pioneer Pudding is probably named as such because the recipe calls for simple ingredients that were staples in most pioneer households – butter, flour, sugar, and raisins.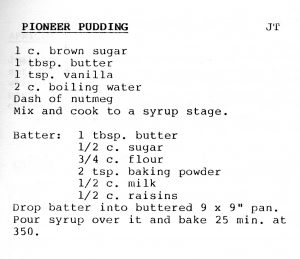 The authors of this community cookbook also paid tribute to the two main employers of the time: Quintette Coal and Bullmoose Corp. in these two recipes: Quintette Quiche, and Bullmoose Braise.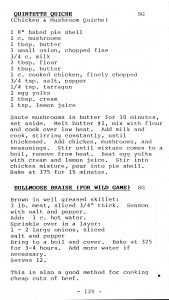 The mining corporations could not exist without the miners and the authors had fun with word play in creating Coal Slaw.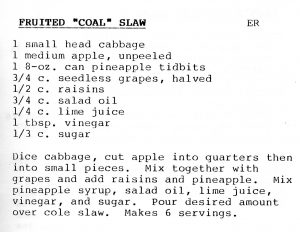 Coal Miners' Pie is intriguing. I expected it might be like Mud Pie but it remains true to its name and is worth a try just for fun!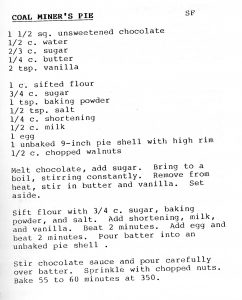 Partly common, partly unique; a little traditional, a little new… and a few surprises thrown in. That's the fun of community cookbooks as they give us a picture of life in a specific community at a specific time. They also help us understand the past and the present moments of the people and families that make up that community.
[i] Ladies of the Tumbler Ridge Alliance Church (n.d.) Pioneer Pudding and Other Delights, Tumbler Ridge: authors.
[ii] Barb Klemke, Joy Thiessen, Sharon Fitzpatrick, Shirley Lepp, Marilyn Johnsen, Sandy Graham, Betty G. Karau, Ellen Radysh, Sharon Johnston, and Tammy Thiessen.