Book Review: Chop Suey Nation: The Legion Café and Other Stories From Canada's Chinese Restaurants, by Ann Hui,   Douglas and McIntyre, 2019.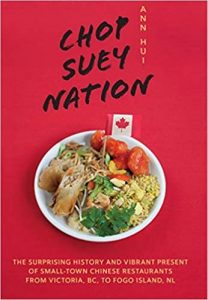 Ann Hui is a food reporter for the Globe and Mail. She writes about her fascination with Chinese Canadian cuisine,  sometimes called "chop suey" cuisine or in her family, "fake" Chinese food.
Hui was curious about the evolution of this food, having grown up in a home where authentic Chinese food was the norm. So she set out on a cross Canada quest to research typical small-town Canadian Chinese restaurants, to hear the stories of the people who ran them and what brought them to the restaurant business.
She pairs these stories with the story of her family, as she gradually peels back the layers of her parents' lives, particularly her father's experiences owning and running a "Canadian Chinese" restaurant in Abbotsford (Legion Café) and working in the restaurant industry in Vancouver.  Along the way, we get a sense of the Canadian immigrant experience.
The book is autobiographical (she talks about her experience growing up in Vancouver), biographical (a history of her father) and also travelogue (her experiences driving across Canada from Victoria to Fogo Island Newfoundland).
What was interesting was that almost every small community across the country has a "Canadian Chinese" restaurant. I can relate to this, as there has been at least one in every small BC community I have lived in. And, of course, what they all have in common is chop suey (and chow mein and fried rice). Chop suey is an example of a recipe concocted out of simple, inexpensive, and readily available ingredients adjusted to suit generic "Canadian" tastes.
Hui describes chop suey as "bits and pieces" or "scraps. The dish was the only constant you would find in every chop suey restaurant from coast to coast. It could vary from place to place and city to city. Some used green cabbage while others had napa.  Others substituted carrots or celery. Sometimes it was beef chop suey, or chicken chop suey, or vegetable chop suey. The only ingredient that was always there was bean sprouts.  Bean sprouts could be grown anywhere so long as there was water. So long as you have water and a bucket, you can grow bean sprouts.
Chop suey. In other words, whatever happened to be available. Gradually, this ad hoc cuisine became standardized. (p. 77-78)
The consistency of the menu items in Chinese Canadian Restaurants resembles an informal "franchise" operation. Buying a business was a way to provide an income for the family, no matter what their culinary experience was. The previous owner always stayed on a while to "teach" the new owners "Canadian" recipes so the menu seldom deviated much from fried rice and chop suey. Some of the restaurateurs would try authentic dishes but these were generally not well accepted. They either toned down the spices and seasonings or changed the ingredients to suit Canadian tastes or just invented unique dishes.  For example, Hui tells the story of ginger beef invented by Mr. Wong in Calgary, battered slices of local beef, deep-fried and tossed in a mild chili-ginger-garlic mix[i]; of Lan Huynh who sells both "Chinese" and Ukrainian pierogies in Glendon, Alta.; "bulgogi pizza" in Dieppe, New Brunswick; and Newfoundland "chow mein" (no noodles).
Chinese Canadian restaurants were and still are very much family-run. Many of Hui's interviewees described growing up in the restaurant, washing dishes as soon as they were big enough to reach the sink, doing their homework in the back, working out front as teenagers, and so on. The families weren't always Chinese. Some came from other Asian countries such as Vietnam or Korea.
As Ann Hui's book transported me across Canada, I recalled my own early experiences with "Chinese Canadian" restaurants. When I was a young child, I loved the pancakes from the restaurant in the Skeena Hotel in Terrace. As a treat on some Sundays, we used to stop for breakfast there on our way home from church. The pancakes we made at home never tasted quite as good. As a teenager, I remember how a bunch of us would drive from Salmon Arm to Vernon for "Chinese food" and sweet and sour boneless pork (my favourite dish).
At about the same time, I was invited to a special Christmas banquet at the restaurant in the Montebello Hotel in Salmon Arm. It was the first time that I realized that there were dishes other than chop suey, chow mein, and fried rice, and I was disappointed that these old favourites weren't there. This makes me wonder, what is "authentic" and what is not? A dim sum lunch or hot pot meal at a restaurant when I am in Vancouver or the combination plate I order for when we stop for lunch in Fraser Lake?
Ann Hui concluded that "Chinese Canadian" wasn't "fake cuisine". It was really a "testament to creativity, perseverance, and resourcefulness" (p. 199) and in that sense it is quintessentially Canadian.  Her initial question was to explore the motivations that brought the restaurateurs to Canada,  but she came to think that the question should be  who they came for, not what (p. 241). The deep love of family and better lives for their children brought them to Canada, and convinced them that they could own and operate a "Chinese Canadian" restaurant, and drove them to work long hours to make an income.
Hui writes "Bitter first, sweet later" (p. 261). It is a mantra for all of us in pandemic times.
[i] See also https://bcfoodhistory.ca/chop-suey-and-ginger-beef-chinese-canadian-cuisine/