John S. Deas – First BC Commercial Salmon Cannery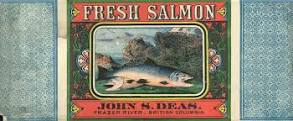 I've enjoyed many walks on the trails of Deas Island Regional Park but only recently learned that the Park took its name from John Sullivan Deas (1838 – 1880), a founder of the salmon canning industry in British Columbia. He started canning in 1871 and by the mid-1870s operated the most productive cannery on the Fraser River.
Deas was born in 1838, part of a free black community in South Carolina. He was a tinsmith by trade and came to the Colony of Vancouver Island about 1861. While the Civil War (1861 – 65) raged in the United States, many rushed to Fort Victoria on the trail of the Fraser River and Cariboo gold rushes. In 1860 and 61, Deas was employed in San Francisco by Martin Prag a dealer in stoves and tinware. Prag also kept a shop in Victoria and Deas was likely drawn to Vancouver Island as part of that business.
In Victoria in September 1862, Deas married Fanny Harris who had come from Hamilton, Canada West. By 1866 he was a manufacturing tinsmith and hardware dealer in Yale, but by 1868 he was back in Victoria running a hardware and stove business under the name of Birmingham House.
Forsaking gold as a route to prosperity, Deas turned his attention to salmon as the next valuable resource. As a tinsmith he knew how to make cans and in the 1870s, each can had to be hand made and hand packed. In 1871, he partnered with Captain Edward Stamp who provided capital, and he began canning salmon at Sapperton (near New Westminster) on the Fraser River. Stamp died suddenly while in England attempting to raise additional capital. It appears that Deas operated for one season in an area known as Cooperville, near Deas Island in a building and site that had been used for salting and barreling salmon by Capt. James Cooper. In 1873, Deas pre-empted land and built his own cannery on what is now Deas Island. By 1874 the cannery consisted of three substantial buildings, smaller buildings, a wharf and sheds. By 1877, he had the leading commercial salmon cannery.

Deas' cannery was probably backed financially by the commission merchant company of Findlay, Durham and Brodie who handled the export of the salmon to England. This was the usual financial structure of West coast canneries of the time but Deas was the true owner of the cannery. The can label bore his name: "Fresh Salmon, John S. Deas, Frazer River, British Columbia."
Depending on the size of the salmon run, the cannery packed between 200,000 and 400,000 cans per year and most product was sold and shipped to England. By 1877, an anticipated large run year, other canneries had opened on the river and unscrupulous competition moved in. In 1878, Deas sold the cannery and joined his wife Fanny and seven children in Portland where Fanny had bought a rooming house the previous year. Working as a tinsmith and manufacturing cans were hazardous occupations in these years. His health was failing and he died in 1880.
Deas has been described as the "leading black industrialist in a fishing industry that would come to define B.C.'s economy." He is remembered as being the first to champion the cause of preserving and regulating the salmon fishing industry; through his efforts the salmon were not entirely depleted during the salmon craze of the late 1800s and early 1900s. Deas is also important as one of the first black men to establish a business of his own in the Lower Mainland and as one of the first pioneers of the salmon fishing industry on the west coast of Canada. The tunnel under the south arm of the Fraser River once bore his name but in 1967, it was renamed for George Massey, a one-term Social Credit MLA from Delta. Deas Island was named for him in 1974. Today, all that remains of Deas' highly successful cannery is a historic plaque and the graves of two of his children.
References
H. Keith Ralston "John Sullivan Deas: A Black Entrepreneur in British Columbia Salmon Canning," BC Studies, No. 32 (Winter 1976/77,) 64-78.
http://www.biographi.ca/en/bio/deas_john_sullivan_10E.html
http://apps.gov.bc.ca/pub/bcgnws/names/8554.html
Post script: the following article gives some more information on John S. Deas (thank you, Sharon Relkey for the link).
Jessica Hardy "Remembering the Black Man Who Pioneered B.C.'s Salmon Canning Industry", Montecristo Magazine, September, 2018.  https://montecristomagazine.com/community