BC Recipes, 1979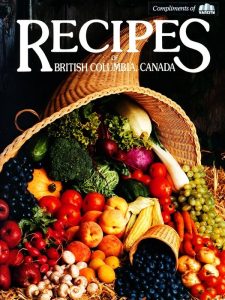 It's been forty-two years since one of the first recipe books attempting to define BC cuisine was published. It was titled This…is British Columbia: Recipes Through the Years and was a collaboration between Beautiful British Columbia magazine and the Ministry of Agriculture. You might have bought it for the amazing photographs of the various regions of British Columbia or the recipes characteristic of the areas, such as Gulf Islands Leg of Lamb, Kootenay Cabbage Rolls, Lulu Island Cranberry Chicken, or Pandosy Apple Cake. It was a great souvenir publication that appealed to tourists and a useful inexpensive coffee table book for any home. Five years later in 1984, it was retitled Recipes of British Columbia, Canada and went into a revised second printing.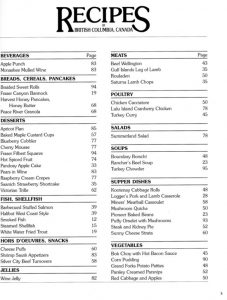 Home economist Kathy Jupp who worked in the Ministry of Agriculture test kitchen at the time recalled the project as being one of the largest they took on. They had developed numerous recipe booklets and brochures in conjunction with marketing boards and producer groups that informed consumers about locally grown foods, their purchase and preparation, but nothing on the scale and size of This…is British Columbia. One hundred pages in length, it provided among the recipes and scenic photographs, small sketches of British Columbia's natural and cultural history. It introduced to readers the concept of terroir long before the idea had currency. The recipes were chosen to represent the various regions of the province and each recipe was tested in the Ministry of Agriculture test kitchens located in Surrey at the time.
This…is British Columbia had a goal of promoting locally grown BC foods to residents of BC and beyond. It marked a major effort of the Ministry of Agriculture to promote agricultural products of the province and pre-dated Buy BC programs. See an earlier blog: https://bcfoodhistory.ca/buy-local-buy-bc/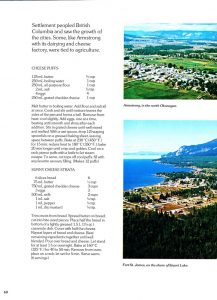 The beautiful photos and recipes have withstood the test of time; some of the text less so. It appears that there wasn't a revision after 1984. If you are lucky, you may still find a copy or two in used bookstores. A few years later, the Ministry of Agriculture closed their test kitchen and product promotion fell to producer groups and marketing boards.