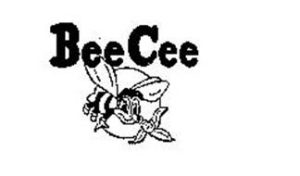 If you grew up in BC you'll probably recognize the Bee Cee Honey trademark[i].  It was owned by Hodgson Bee Supplied Ltd. located in New Westminister, BC. Established in the late 1940s/early 1950s, the Bee Cee Honey packing plant handled honey from the Peace River District and became a popular recognizable brand throughout the province even appearing in the 1953 PNE parade.[ii]
By 1957, the BC Department of Agriculture reported that the Bee Cee Honey packing plant in New Westminster was handing most of the honey from the Peace River[iii].
In the late 1990s, Bee Cee Honey was acquired by Peace River Honey of Victoria where the company continues today to provide honey products using the Bee Cee Honey Brand as well as Northern Gold and Peach River Honey. They claim to provide only unpasteurized 100% Canadian No.1 White Clover Honey.[iv]
The Peace River region is BC's largest agricultural area. It includes 32% of the province's farmland and a robust agricultural sector which includes a range of products such as grain, oil seed, livestock and honey. On average, Peace Region beekeepers produce three times more honey per hive than elsewhere in the province, representing about 30% of British Columbia's total honey crop. The honey is light-coloured and recognized as the whitest in the world.  This is attributed to the region's cool climate and abundant fields of wild clover and red alfalfa[v].
In 2014, BC declared May 29, The Day of the Honey Bee to  recognize both the importance honey bees play in human survival and daily life, and the partnership between the province and B.C. beekeepers to improve agricultural production, and monitor and maintain bee health.[vi] The press release to commemorate the occasion stated that beekeeping in B.C. had grown from May 1858 when two hives arrived in Victoria Harbour (see How Honeybees Came to BC) [vii] to thousands of hives today throughout the province that are responsible for pollinating up to $250 million worth of agricultural production every year and about $10 million worth of honey. A young beekeeper from Saskatchewan started the Day of the Honey Bee campaign in 2009 to raise awareness about honey bees, and since then, a large number of local governments, provincial legislatures and the Canadian national government have adopted versions of the Day of the Honey Bee proclamation.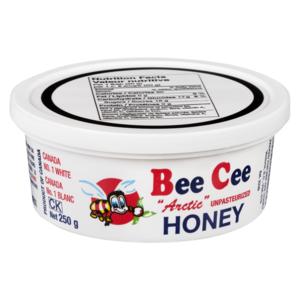 My favourite honey is Bee Cee creamed honey.  It is thick and white and spreads beautifully on bread for the ultimate comfort food.  To produce creamed honey, a small amount of already creamed honey, called "seed honey" is added to liquid honey, then the honey is churned and cooled. This process creates a very smooth, even granulation effect throughout the honey, giving it a more solid, or a "creamed" texture (there is no cream in creamed honey).
f you are a teacher you might be interested in the teaching resource at BC Agriculture in the Classroom titled B.C. Honey: The Natural Sweetener. [viii]
[i] Bee Cee Honey trademark. https://www.trademarkia.com/bee-cee-72170474.html
[ii] http://searcharchives.vancouver.ca/hodgson-bee-supplies-truck-advertising-bee-cee-honey-in-1953-p-n-e-opening-day-parade
[iii] British Columbia Department of Agriculture.District Report of the British Columbia Department of Agriculture, Volume 52, January 1, 1957.
[iv] http://peaceriverhoney.ca/
[v] http://www.cbj.ca/north_peace_region_canada_s_next_economic_hub/
[vi] https://news.gov.bc.ca/stories/day-of-the-honey-bee-celebrates-156-years-of-bc-beekeeping ; https://www2.gov.bc.ca/assets/gov/farming-natural-resources-and-industry/agriculture-and-seafood/animal-and-crops/animal-production/bee-assets/api_fs101.pdf
[vii] See McCutcheon, D. (2013).  A History of Beekeeping in British Columbia from 1950-2000. Victoria BC: British Columbia Honey Producers Association
[viii] https://www.bcaitc.ca/resources/bc-honey-natural-sweetener