BC Sugar and Alberta Sugar Beets
"Sweet " dreams come true: Recipes you'll relish is a  small 16-page pamphlet. No date or publisher is indicated. The foreword states that the recipes in the booklet were all made with PURE ALBERTA SUGAR (capitals in original) by some of Western Canada's leading dieticians. Contributors included  Hesperia Lee Aylesworth, Home Service Director, Canadian Western Natural Gas, Light, Heat & Power Company[i] , and Mrs. W.J. Thorne, Preserves Prize Winner, Calgary Exhibition. The estimated date of the publication is 1930[ii] although it could be later.
The cookbook section included the following categories: Unusual Preserves with Alberta Sugar; Jellies and Jams; Cakes, Puddings and Pies; Frostings and Icings; Candies and Confections: and Vegetables, the latter category contributed by Caroline King, Sugar Institute of America.
Sweet Dreams debunked some myths of the times about sugar beet sugar as well as providing information about nutrition and sugar beet farming in Alberta. It stated unequivocally in several different ways that beet sugar is identical with cane sugar; "Chemists cannot [distinguish between beet sugar and cane sugar]…about one-third of the world's sugar product is Beet Sugar , and no human being, nor science, can distinguish a difference".
The  sugar beet connection to BC  comes from the Rogers' family sugar dynasty in Vancouver.
Benjamin Tingley Rogers[iii] (1865-1918), the American-born founder of BC Sugar, had significant familial ties to the sugar industry and in 1890 moved to Vancouver to begin his own sugar refinery business. He quickly gained the support of the CPR; he was notoriously anti-union and anti-Asian;  and by the time of his death,  a wealthy man who steadfastly refused to be involved in civic affairs or speculate on real estate.  Rogers had purchased sugar plantations in Fiji and in 1925 his son Blythe began the association with Canadian Sugar Factories out of Raymond, Alberta.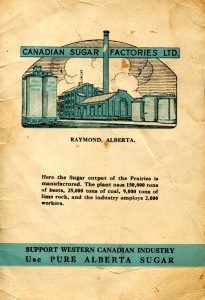 I haven't been able to determine how much sugar currently sold in Canada is beet sugar. With three cane sugar factors, and one beet sugar factory, it could possibly account for one-quarter of Canadian production. Sugar could be considered a local Canadian food.
In a future blog I will try to look at the complicated history of BC Sugar[iv]
Endnotes
[i] This company was started in 1911 and became a sister company to Northwestern Utilities. The tangled web of utility companies may be further examined at https://www.encyclopedia.com/social-sciences-and-law/economics-business-and-labor/businesses-and-occupations/canadian-utilities-limited.
[ii] Hesperia Lee Aylesworth's mother died in 1939 after living with her daughter, Hesperia Lee Henderson for ten years (clue # 1). Canadian Sugar Factories Ltd, of Raymond, Alberta  was opened in 1925, the second sugar factory on the site. It remained in use until 1964. http://www.waymarking.com/waymarks/WMMJ9T_Sugar_Factory_Elevator_Raymond_AB
[iii] See B.T. Roger's biography. http://www.biographi.ca/en/bio/rogers_benjamin_tingley_14E.html
[iv] There is a BC Sugar Museum in Vancouver, although it may not be open to the public: https://searcharchives.vancouver.ca/bc-sugar-museum-collection