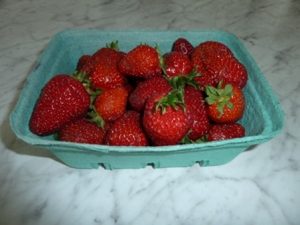 Summer Strawberries
Before the end of May, the strawberry stands opened along the roads in Chilliwack and now we are well into the peak season. It's an exciting moment when the first strawberry stand opens. There is anticipation of the delicious flavour and assurance that summer has indeed arrived!
In an earlier blog, Gale told the fascinating story of strawberries native to British Columbia and how the wild and coastal strawberries of the "new world" hybridized in European gardens and were re-introduced to North American gardens as the forerunner to our present domestic varieties. (https://bcfoodhistory.ca/strawberries-native-british-columbia/)
The abundance of native strawberries held the same excitement for early British Columbia settlers and adventurers as the appearance of our local cultivated types do today. On June 25, 1860, The Cariboo Sentinel reported: "RIPE – Wild strawberries, quite ripe were gathered near the Forks of Quesnel a few days ago" (p. 3).
Residents of Vancouver Island had several sources of strawberries. The native varieties were picked and reported by the Daily British Colonist: "Wild strawberries are being gathered in large quantities in the vicinity and are served at the restaurants" (June 3, 1867, p. 3). The Daily Colonist also reported on strawberries grown farther south and imported into Victoria from Washington, Oregon and California. "Strawberries have made their appearance in the San Francisco markets" (April 15, 1861, p. 3).
The Hudson Bay Company encouraged self-sufficiency in food supplies at their forts and in the 1850s had introduced strawberries along with other fruits and vegetables to the gardens at Fort Rupert, near present day Port Hardy.
VEGETABLES AND FRUITS AT FORT RUPERT, V.I. – through the kindness of Major Downie, Mr. Winton, the Hudson Bay Company's Officer in charge of Fort Rupert, has favored us with a table showing the seasons at which vegetables and fruits ripen there. Fort Rupert is several degrees north of Victoria; and yet evidently the seasons are much earlier than here. A fine agricultural district exists in the neighbourhood, either skirting Kimkish river or its vicinity, and stretches out toward Nootka on the west coast. The sample of strawberries sent us by Mr. Winton, (for which he has our thanks), are of the red cultivated species, some of which are nearly three inches of circumference.[1]
The strawberries at Fort Rupert had ripened by June 20 in that year of 1860.
In 1862, the Prince Albert Nursery in Victoria with Charles Dechent proprietor advertised for sale "A large assortment of apple, pear, plum, cherry, gooseberry, raspberry, black, white and red currant, strawberry plants, rhubarb, shrubs and ornamental trees" (Daily British Colonist, October 15, p. 2).  The Agricultural and Horticultural Society promoted the growth of fruits and vegetables and held exhibitions and competitions among growers. In 1862, The Victoria Press praised strawberries grown by Willie Pottinger, the gardener at Hillside Farm near Quadra Street and Queens Avenue as "the finest fruit that has ever made its appearance at this time in Victoria…the smallest of the strawberries is about 4 inches [10 cm] in circumference."[2]
Strawberries around Victoria and on Vancouver Island proved popular. While the cultivated varieties were sold for home gardens, it was reported that "Wild strawberries are being gathered in large quantities around Victoria" (Daily British Colonist, June 20, 1867, p. 3). And all varieties found their way into the market and onto saloon and dining menus.[3]
Strawberry became a popular flavour for ice cream and syrup.[4] Oil of strawberry was advertised as one of the "essential oils" of the time.
Strawberries began to be cultivated in areas outside of Victoria. In 1866, The Daily British Colonist reported on Lillooet:
EARLY VEGETABLES – A correspondent writing from Lillooet says: We had green corn on the 30th of July; cucumbers on the 16th; string beans on the 3rd; new potatoes on the 2nd; turnips and strawberries on May 31st; radishes, China cabbage and young onions on the 8th; wheat cut on 25th July, barley on the 19th. The dates are correct."[5]
On July 11, 1867, the Daily British Colonist reported that the season on Vancouver Island became unusually dry so that the strawberry crop was a complete failure. Strawberries had to be imported from New Westminster.
Over one hundred and sixty years later, strawberries remain popular in British Columbia. Both cultivated and native varieties grow in most regions of the province. U-pick and ready-picked baskets are in abundance everywhere this month. Buy local, appreciate the farmer-grower and enjoy!
[1] Daily British Colonist, August 24, 1860, p. 3.
[2] Nancy Oke & Robert Griffin, "Feeding the Family, 100 Years of Food & Drink in Victoria" ( Royal BC Museum, 2011), p. 10.
[3] Daily British Colonist, July 2, 1862, p. 2. "The Richmond" advertisement from Daily British Colonist, July 2, 1862, p. 2.
[4] Daily British Colonist, August 9, 1860, p. 2 advertised cases of strawberry syrup at auction. Pipers' saloon promoted their strawberry ice cream in Daily British Colonist, July 29, 1868, p. 1.
[5] Daily British Colonist, 1866, August 15, p. 3.