Nabob Foods Home Service  
Nabob Foods Home Services department produced cook books, spice charts, and other educational materials until the 1970s.  Consumers who sent in 25 cents and labels from four different Nabob products would receive "Time-honoured Recipes of the Canadian West", all selected by Jean White, Director of  the Nabob Home Services Department.
In the foreword to the cookbook, White states she travelled across Western Canada to select recipes representative of heritage food ideas. She is described as a "qualified home economist".   In the 1960s and 70s, home economics graduates worked in extension service and business to offer information on foods, textiles, and consumer education.  The home economist was well-respected and independent and offered a strong female role model.  Generally, home economists  held undergraduate home economics degrees (usually B. Sc.)  and in several Canadian provinces, it is still possible to apply to be a professional registered home economist and use the letters P.H. E. or R.P.H.E. after one's name.  Home economics often appears under the title of human ecology or family studies, linked to agriculture and dietetics.
The intent of the cookbook is to promote Nabob products, drawing from a wide community of users and readers. It bears a lot of resemblance to Edith Adams' Readers' Choice recipe books in which Gale Smith writes about her grandmother's legacy in Edith Adams' recipes.
Almost half of the contributors were from BC (40%), then Saskatchewan (25 %),  Alberta ( 20%, and Manitoba (15%), for a total of 150 recipes.  There are no duplicate recipes and each one is credited to an individual cook, identified by Miss/ Ms/  Mrs/ Mr. ( only one Mr. – the rest are female), and the location.  Cities, towns and villages across Western Canada are represented.
As mentioned in the previous blog about Nabob Foods, the photographs were taken at Burnaby Heritage Museum, with the cover photo at Cloverdale.
"Time-honoured Recipes" includes stories for recipes with unusual origins, or with family history or heritage value : summer borscht with rhubarb (Norquay, SK),  potato pie (St. Jean Baptiste, MB), bubbat (Winkler, MB), Metis tongue and turnip (Tofield, AB), Great-Grandma's Sheep-Wagon Cake (Burnaby, BC).  Traditional recipes such as Nanaimo Squares (not bars), bannock ( from a Selkirk Settlers recipe of 1815 rather than an Indigenous source), sourdough, and pickled eggs are included. And for the people who persist in thinking that home economics emphasizes tasteless, oddly-garnished food, there is only one gelatin-based salad (moulded shrimp from Victoria, BC).
The recipes are all in Imperial measures (two years before the metric system was put in place in Canada) and written in narrative format.  Steps are not numbered, but rather to be followed in sequence.
Diversity in the cookbook reflects the dominant groups of people in Canada up to the 1970s.  The focus is on Canadian "pioneer" recipes, British, French, German, Metis, Mennonite, Russian and Ukrainian in origin.  No recipes from Asia, South Asia, and Central and South America  are included. No indigenous recipes are included although there are some wild game and huckleberry recipes.  From the vantage point of 2021, this seems like a major oversight. But, given that it follows the proportionate cultural groups of Canada at the time, it shows how home economics reflects the politics and values of a  given era.  (See Li, 2000 for empirical statistics about immigration and cultural diversity in Canada up to the end of the twentieth century.)
Time-Honoured Recipes is useful, for giving us a partial picture of one company's view of Western Canadian cooking.  Nabob used to provide spice charts and cookbooks to schools on a regular basis. and  several people have let me know they still have their own copies of this particular recipe book.
Recipes are a minor form of literature. They are succinct; direct and get the point across with little rhetoric. For anyone inclined to overwrite,  recipes provide good examples of how to say a lot in few words. See a past blog, Windermere Cookery, for further discussion.
Fourteen categories divide the content into meal component (soups, salads and vegetables, main dishes, desserts), flour mixtures (bread, cake, pies, cookies and squares) and miscellaneous (dairy, appetizers, confections). The requisite Nabob Premium Offer appears on the last page.

The following pages from the cook book have been selected for their reflection of diversity of the times,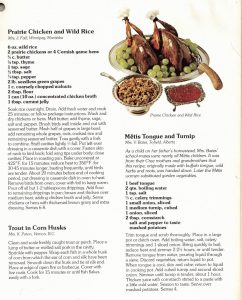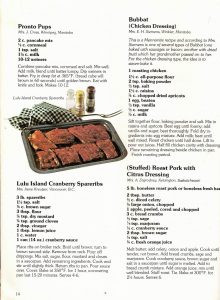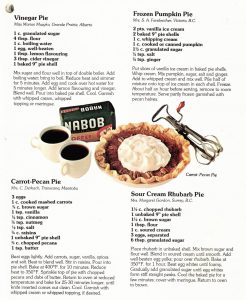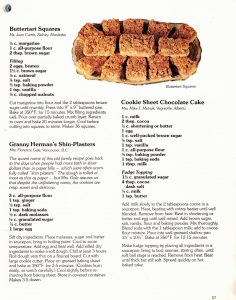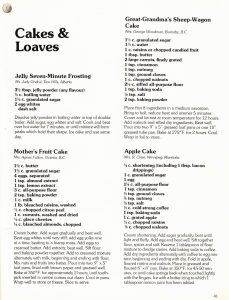 Historical research is compelling for its unanswered questions. If we did not look further at Jean White, or Nabob, or the Kelly-Douglas founders, Robert Kelly and Frank Douglas, we might believe that Jean White was a real person and Nabob was first established by British tea colonizers Kelly and Douglas.
All false.  In the next blog, you'll meet a created personage in the Canadian food world and learn about the Klondiker and the social activist who started a grocery distribution business in BC and Western Canada.
References
Nabob and the Community – https://miss604.com/2011/09/vancouver-history-nabob.html
History of Home Economics https://www.sutori.com/story/a-home-economics-history–y28opaD649j4XXoZWS8zqL6W
Li, P.  (2000).  Cultural diversity in Canada: The social construction of racial differences. Department of Sociology, University of Saskatchewan.  [Prepared for Department of Justice . [ Prepared as an opinion piece to stimulate discussion].
https://www.justice.gc.ca/eng/rp-pr/csj-sjc/jsp-sjp/rp02_8-dr02_8/rp02_8.pdf