In 1927 Thomas Bulman of Bulman's Limited spoke to the Vernon Rotary Club about a "dry story" – the development of the dehydration industry in Vernon.[i]  The Bulman Cannery dominated the Vernon landscape for fifty years.[ii] Bulman had started the firm in 1916 on a 4,000-acre ranch 16 kilometers north of Kelowna.[iii] The company had begun by dehydrating surplus apples, and when it outgrew the dehydrator in 1926, the operation was moved to Vernon. Two hundred people were employed at the peak of season in 1932, women as well as men. The company prospered during World War II with ever-increasing demands for canned and dried food.
Alice Stevens, a Vernon home economics teacher, joined the war effort as a home economist for Bulmans in 1942.[iv] At the time, almost every imaginable fruit and vegetable that could be grown in the Okanagan was being either canned or dried:   asparagus, beans, beets, cabbage, onions, pumpkin, spinach, tomatoes, black currants, greengage and imperial plums in addition to apples of course. The rumour in town was that you could tell what Bulmans was processing every day by the smell in the air. In October of 1942, the Bulman dehydrator began processing only vegetables for four solid months, twenty-four hours a day, for the British Food Mission. In 1943 Bulmans was recognized as Canadian's greatest producer of dehydrated vegetables of all kinds.[v]
Alice Stevens was responsible for educational publicity and laboratory control at Bulmans, putting her university studies of chemistry and nutrition to use. She borrowed a statement from Claude Wickard, the American Secretary of Agriculture for a speech to the Vernon Rotary Club, telling club members, "Food will win the war and write the peace".[vi] Conservation of all items that might be used in the war effort was emphasized; an advertisement credited to Stevens appeared in the Vernon News urging "patriotic housewives" to save tin by purchasing larger-sized tin cans. The ad stated that no cans would be allowed for foods low in nutrition and Stevens provided cooking tips: "Next time you open a can of Bulmans Beans, save some of the beans to add to the supper salad. A white sauce added to the balance makes your creamed beans for dinner go further. There is no shortage of creamed sauce ingredients".
A bumper crop of summer cabbages in 1944 resulted in the biggest dehydration project that Bulmans had undertaken. The plant employed 215 people to handle 100 tons of cabbage daily. The staff enjoyed a "double-barreled compliment" received from the husband of one of their employees deployed in Italy: "Bulmans cabbage is sure swell; but we wouldn't mind if the machinery broke down for we see nothing else"[vii].
In 1945 Bulmans started a locker plant for frozen food, open to the general public and popular with hunters, at a time when home freezers were rare. In 1947 Libby, McNeil and Libby Ltd. started negotiating to buy the Vernon plant, and the locker plant was sold.[viii]  Over the next three decades, Bulmans tried to keep up with high-yield California products but limited water supply and high freight costs caused the eventual closure of the operations in 1976. In 1980 all of the buildings burned down.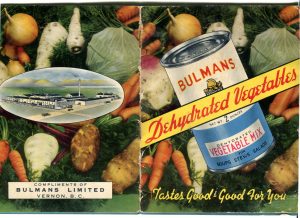 Dried vegetables are uncommon these days, mostly used in soups, but seldom promoted for their nutritional value and excellent keeping qualities.  A colourful pamphlet, Bulmans Dehydrated Vegetables, was prepared by Alice Stevens and Phyllis Wardle in 1947. It  includes a number of recipes and slogans to promote dehydration of foods. It remains as a sign of how local foods used to sustain Vernon.
[i] See Vernon News, February 17, 1927, "Dehydrating provides another market for apples", Vernon Museum and Archives, Bulman file.
[ii] Viel, H. (1979). Selling agents and fruit and vegetable houses of the North Okanagan 1890 – 1978. Okanagan Historical Society Journal, 43, 11-22.
[iii] See Vernon Museum and Archives, Bulman file.
[iv] De Zwart, M.L. & Peterat, L. (2016). Alice Stevens: Innovations in women's work. British Columbia History Magazine, 49 (2), 33-37.
[v] Ibid.
[vi] See Vernon News, December 3, 1942, and also A. Bentley, Eating for victory: Food rationing and the politics of domesticity (University of Illinois Press, 1998), p. 142.
[vii] "Summer cabbages", The Vernon News July 20, 1944, 1, 5.
[viii] According to the Vernon Museum and Archives file, Bulmans refused the Libby offer. The Bulman plant worked closely in product development with the Summerland Research station but the volume was too small and overhead too large for small operations.