Wedding Cake Recipe Search
Few food historians can resist the urge to help someone find a recipe. When the BC Food History Network received a request for a wedding cake recipe, we all tried to help.
Here's the request:
Hi there, I had a lady make my wedding cake in 1989 in Victoria BC. The woman told me she used a recipe she got from the times colonist in 1957. She wouldn't share the recipe, however I'm wondering if the recipe from Muriel Wilson's cook book could have it in it. It was a white fruit cake, packed with fruit and tasted like it had almond meal in it… I can't seem to be able to purchase a copy of her book from over here. Are you able to take a look, and perhaps send me a copy of the recipe if there is one in it? I've searched for years, and only just came across an old newspaper clipping from my Mom's recipe folder (she has passed now) which mentioned Muriel and started me investigating which lead me to your blog. Many thanks if you can….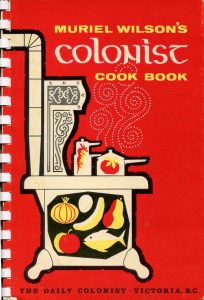 We had a date and the type of cake – but none of us had a copy of Muriel Wilson's cookbook. We thought it might be in Chilliwack, or Edmonton, or possibly in the University of the Fraser Valley Lenore Newman collection. Putting our heads together, we came up with the following suggestions and sources:
Much of the Victoria Times Colonist is now archived online at the following site: http://www.britishcolonist.ca/dateList.php?year=1957
An Elegant White Fruit Cake appears in Muriel Wilson's column "Food for Thought" in 1957. It's difficult to read:
We haven't heard if our Australian correspondent has tried the recipe yet.  If we find the original cookbook, we'll send the recipe on to her.
Other fruit cake blogs on BCFHN have been popular:
https://bcfoodhistory.ca/muriel-wilsons-colonist-kitchen/
https://bcfoodhistory.ca/fruit-cake-failures/
https://bcfoodhistory.ca/fruitcake-christmas-cake/
https://bcfoodhistory.ca/vernon-applesauce-fruit-cake-new-tradition/
Addendum: This image is just in from MaryAnne MacDougall, Special Collections and Information Services Librarian, University of the Fraser Valley – it's another possibility for the White Fruit Cake recipe.  Take note that it has Muriel Wilson's signature touches regarding convenience and "homely" advice.