Salal Jelly
How to make salal jelly continues a BCFHN blog from May of 2018 on the topic of salal, https://bcfoodhistory.ca/salal/. 
I was inspired by a patch of salal under a stand of cedar trees close to where I live on Vancouver Island and intended to follow up with a post on salal jelly when the berries appeared.  I've been watching the patch hoping to get enough berries to make jelly. Gaultheria shallon (salal) berries have been touted as having up to five times the health-promoting qualities of blueberries (Ferguson, et al., 2018).  As a native plant, they rival buffaloberries in their reputation as a new and old superfruit (see a previous BCFHN post).
Conditions for the past two summers have been very hot and dry and most of the berries didn't develop. Those that did just dried up.  But this year with a wet spring and cool June they have finally been able to mature.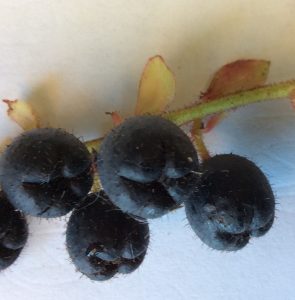 Under good conditions, pollinated flowers (see original salal blog) will ripen into a dark purplish, slightly hairy, globe-shaped berry with a star-shaped depression at its blossom end. Salal doesn't produce berries all at once but spreads them over the season. This makes for slow picking and difficult to harvest commercially.  I went out over a ten-day period in order to get enough for a batch of jelly.
I had been warned about how messy picking salal berries can be if you try to pull the berry off the stem.  So I took a pair of scissors with me and snipped off the stems.
Then I took the advice of Acken and Lycopolus (2019).  In their cookbook Cedar and Salt: Vancouver Island Recipes from Forest, Farm, Field, and Sea, they recommend freezing the stems and bunches before trying to remove berries. This worked really well. Once the berries were frozen, they are much easier to remove from the stems but watch out for the stems, they can be really sticky. I kept the berries frozen until I was ready to use them.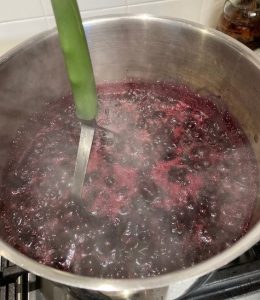 I didn't find the uncooked berries very tasty.  They are quite "seedy", being full of very small white seeds. I didn't think I would like the texture of jam so I decided to make jelly.  I had managed to collect eight cups of frozen berries, and washed them in a colander, draining off the extra water. Then I put them into a very large saucepan with two cups of water. As they boiled and simmered, I used a potato masher to squish all the juice out of them. This took about 15 minutes. I think the freezing makes it easier to extract the juice because the water in the berry turns to ice and weakens the cell walls.
I put the juice through a jelly bag and got four cups of juice, just the right amount for most recipes using commercial pectin.  I chose a low sugar brand and prepared according to package directions. The reward was four-250 mL. jars and a bit for sampling.  The jelly tasted like a mild black currant with a hint of blueberry and a unique earthiness. We pronounced it delicious and I promptly decided I should go out picking again to make another batch.
Is the salal "berry" a real berry?  I wondered this because some reference refer to it a "berry-like fruit".  Turner (2019) reports in the Canadian Encylopedia:
Over 200 species of small, fleshy, wild fruits occur in Canada. Most people consider them all "berries" but, technically, they are classed in different categories. These categories include drupes (e.g. cherries, elderberries), pomes (e.g. saskatoons), true berries (e.g. gooseberries, blueberries) and aggregate fruits (e.g. raspberries, strawberries).
References
Acken, D. L. &  Lycopolus, E. (2019).  Cedar and Salt: Vancouver Island Recipes from Forest,Farm, Field, and Sea.  Victoria: TouchWood Editions.
Note: This cookbook has been nominated for the 2020 TASTE awards (https://bcfoodhistory.ca/taste-canada-cookbook-awards-bc-cooks-and-authors/) and has a couple of delicious sounding recipes using salal berries.]
Ferguson, A., Carvalho, E., Gourlay, G., Walker, V., Martens, S., Salminen, J. P., & Constabel, C. P. (2018). Phytochemical analysis of salal berry (Gaultheria shallon Pursh.), a traditionally-consumed fruit from western North America with exceptionally high proanthocyanidin content. Phytochemistry, 147, 203-210.
Sierra Club BC and Coastal First Nations Turning Point (2009). Going Wild! Teaching about Wild Products from BC's Coastal Rainforests. https://sierraclub.bc.ca/wp-content/uploads/2015/03/Going-Wild_Wild-products_Educators-guide_4-7.pdf
Turner, N. (2019). Wild Berries in Canada.  The Canadian Encyclopedia. https://www.thecanadianencyclopedia.ca/en/article/wild-berries