Okanagan Dairy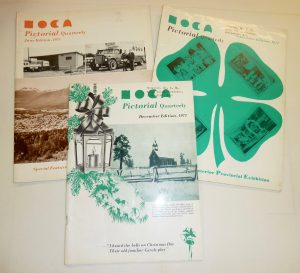 Searching for information on the North Okanagan Creamery Association (N.O.C.A.) led to finding a huge collection of information[i] and many online resources about the Dairy Industry in British Columbia.
In 1925, NOCA was a dairy operating near Armstrong BC and struggling to find its way forward. It could either fall into supervision and management by the Fraser Valley Milk Producers Association or be purchased by P. Burns and Co. who would rent the assets back to the Association. The arrangement with P. Burns and Co was made and the company became the Okanagan Valley Co-operative Creamery Association. In 1925, it had 385 producers shipping cream to it and it produced 338,301 pounds of butter.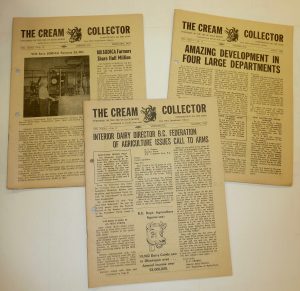 Everard Clarke, then sales manager for P. Burns and Co took on management of the new Association, a position he held with the exception of 18 months, for 40 years. In 1927, he created and became editor of the Cream Collector, a newsletter distributed to producers along with the monthly cream cheque. In 1927, the creamery in Armstrong burned down and production moved to Vernon. Further crises in 1930 led to the return of Everard Clarke after a brief dismissal. Clarke was committed to the co-operative movement but insisted that "They will grow, and they will survive, only if the farmer members are able to give devoted attention to the welfare of their Co-operative as a group. In this sense every farmer lives for himself but also for his co-operative as far as his dairy business is concerned." [ii]
Production grew and dairy herds improved with the introduction of new animal breeds. Overproduction became an issue and cheaper butter entered the market from Alberta and New Zealand. In 1934 the National Products Marketing Act came into effect and enabled the Federal government to regulate time, place, manner and amount of any product of Agriculture. In 1946 the Milk Board formed and set fixed prices for milk products in the Vancouver, Victoria and Fraser Valley areas.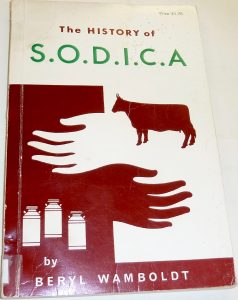 In 1947, the Salmon Arm Creamery Association and the Okanagan Valley Co-operative reached an amalgamation agreement and S.O.D.I.C.A. came into existence. In 1951, S.O.D.I.C.A. opened a new plant in Kelowna. In 1957, the directors of S.O.D.I.C.A. applied to have the production area fall under Milk Board regulation.
In 1982 S.O.D.I.C.A. sold to the Fraser Valley Milk Producers Association.[iii] In 1992, Fraser Valley Milk Producers, Central Alberta and Northern Alberta Dairy Producers merged to form Dairyworld. In 1996, Dairy Producers Co-operatives from Manitoba and Saskatchewan joined Dairyworld. In 2001 this large company was sold to Saputo Inc. (www.saputo.com/en)
When we reach for that carton of Dairyland[iv] milk in the local supermarket, it represents a long story of generations of milk producers, struggles of local cooperatives, regulatory and marketing issues both local and global.
[i] The Greater Vernon Museum and Archives holds a large collection of NOCA company records, and copies of Cream Collector and NOCA Pictorial Quarterly.
[ii]  Wamboldt, B. (1965). The history of S.O.D.I.C.A. Vernon, BC: The Vernon News. Available online at: bcdairyhistory.ca/publications.html
[iii] Watt, K. Jane (2000). Milk stories, a history of the dairy industry in British Columbia 1827 – 2000. Available online at: bcdairyhistory.ca/publications.html
[iv] See Story of Dairyland available at: bcdairyhistory.ca/publications.html