Nanaimo bars are a true BC contribution to culinary arts. According to Wikipedia, the first reasonable Nanaimo-bar-like recipe that appeared in print was from The Women's Auxiliary to the Nanaimo Hospital Cook Book (1952).
Three versions of Nanaimo Bars appeared in the WA Cookbook.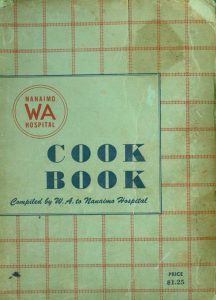 Chocolate Squares
½ cup butter
¼ cup berry sugar
4 tbsp. cocoa
1 egg
1 tsp. vanilla
Place in bowl and melt over hot water and add 2 cups graham wafer crumbs, ½ cup cocoanut, ½ cup chopped walnuts. Mix together and pat in pan size 8×8.
Icing
Mix:
¼ cup butter
1 ½ cup icing sugar
2 tbsp. Birds Eye custard powder
and add a little milk
After mixed spread on top of other mixture. Melt 3 sq. of Bakers chocolate with one tbsp. of butter and spread on top and place in fridg. overnight. — Jean Martin
The Laura Secord Canadian Cook Book was prepared by the (now defunct) Canadian Home Economics Association in 1966 and had at least six printings. The foreword to the Nanaimo Bar recipe credits "the Canadian kitchens of a well-known food company" with supplying the name. The Laura Secord Cook Book is one of the best, if unrecognized Canadian cookbooks around. You can still find it on used book sites.
Laura Secord Canadian Cook Book (1966). Canadian Home Economics Association. McClelland and Stewart:  Toronto/Montreal. p. 130.
There is an official Nanaimo Bar recipe, as selected by the City of Nanaimo in a 1986 ultimate Nanaimo Bar contest. It was attributed to Joyce Hardcastle.  See The Legendary Nanaimo Bar at the City of Nanaimo's website for more information.

We recently came across a new original source of the Nanaimo Bar recipe.  In the Vancouver Province Modern Kitchen spring supplement of 1953[i], a recipe for Nanaimo bars is included. This is possibly the first time that the recipe appeared in print in BC.  Although two versions did previously appear in the 1952 Women's Auxiliary to the Nanaimo Hospital Cook Book under the title of "Chocolate Square", the Province's directions are more complete and don't use brand names.  In the old days of home economics, that was always the mark of a non-biased and therefore more reliable recipe.  The Director of the Province Modern Kitchen was Margaret Henderson and she deserves some  credit for making this iconic recipe available to British Columbians.
In recent years a Canadian stamp featured a Nanaimo Bar, and controversy has erupted over the proportions of base – custard-chocolate layers.
[i] Courtesy L. Peterat, private collection.
The Women's Auxiliary to the Nanaimo Hospital Cook Book (1952), compiled and published by the Women's Auxiliary to the Nanaimo Hospital, Nanaimo, B.C. (n.p.)