Muriel Wilson – Colonist Cookbook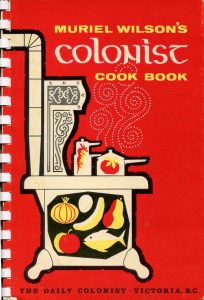 Muriel Wilson, food writer for the Victoria Times Colonist and host of CHEK-TV "What's Cooking" took a pragmatic approach to cooking in her 1963 cookbook, Muriel Wilson's Colonist Cook Book.
"There is no virtue in doing things the hard way…If convenience foods meet your needs, use them ". [i] Wilson writes that it's fun "getting acquainted with the newest mixes, the fabulous instants, the ready-to-go canned and frozen foods.  Our jet-age cooking would have astounded Grandma, who, when she wanted gelatin had to boil a pot of calves' feet for hours.  Now we simply reach for a package. A package plus imagination adds up to food anyone can be proud of".
The Colonist Cook Book reflects food choices and social conditions of the 1950s and 60s – the post war boom, increasing number of women in the workforce, and extensive use of commercial food products.  It's filled with cooking shortcuts interspersed with homemaking advice, entertainment tips and general life philosophizing. The chapter on Bread and Rolls is subtitled "Give us this day our daily bread".. .and please, God, make mine homemade".  The Jiffy Food chapter is "For the girl who just wants to add water and stir".
This is an exhausting cook book. I couldn't possibly keep up with the many ways Wilson has created to make food more attractive, garnished, and appealing. She has an answer for every possible life event that might require preparation of food on short notice.  And for every problem that might arise for an inexperienced cook.
Wilson and her husband ran a resort on Salt Spring Island called "Solimar" in the 1940s.  After they moved to Victoria she was President of the Vancouver Island branch of the Canadian Women's Press Club.  Shortly before her first televised cooking show in 1963, the Salt Spring Driftwood gave details of a lunch at the Empress that Wilson attended along with the Lieutenant-Governor's wife, the Premier's wife, and two women members of the Legislative Assembly.[ii]  It would seem she had strong political connections.
Here is a collection of tips from The Colonist Cook Book. They are from "Bride's Corner" – the last  chapter of the book  and worthy of a sociological study all by itself.
Forget to take the butter from the refrigerator and sandwiches to make? Use a potato peeler…the little curls will spread easily.
For baking powder biscuits to charm your Mother-in-Law…spread with sharp cream cheese and put a dollop of wild blackberry jam on top
Do not keep cake and bread in the same storage box, because the cake absorbs the moisture from the bread
Bake a ribbon meat loaf with a layer of whole cranberry sauce between two layers of meat. Flavorful and a nice surprise.
Use a dash of sherry, cognac or Angostura Bitters in pumpkin pie filling for added flavor.
References
[i] Wilson, M. (1963). Muriel Wilson's Colonist Cook Book. Victoria: Colonist Printers.
Thanks to Jennifer Cockrall-King for pointing out this wonderful quote in her 2012 publication, Food and the City: Urban agriculture and the new food revolution. New York, NY: Prometheus Books.
[ii] Salt Spring Island Archives.  Thanks to Ceridwen Ross Collins, Archives volunteer for providing the following references:
https://saltspringarchives.com/driftwood/1961/1961-February23.pdf
https://saltspringarchives.com/driftwood/1962/1962-May3.pdf
http://saltspringarchives.com/ruckle/HelenRuckle/pages/2011111049.htm