This week I look at recipes for mock foods that work with readily available ingredients and attempt to make them more exotic, glamorous or special. Sometime in my past, I have made mock duck and this was an opportunity to try it again. Back in the 1970s and 80s, we were encouraged to use less tender and less expensive cuts of meat and make them somehow special.  The following Mock Duck recipe was created by the home economists at the Vancouver Daily Province in 1951. It makes quite a nice meal and certainly may be appreciated by beef or duck eaters.
Mock Duck
1 ½ pounds round steak                              ½ teaspoon salt
2 cups bread crumbs                                    Pinch pepper
2 tablespoons chopped onion                     2 tablespoons melted butter or margarine
1 teaspoon chopped parsley                         2 cups hot water or tomato juice
½ teaspoon poultry seasoning
Remove bone and excess fat from steak and, if desired, pound both sides of steak with meat pounder or edge of saucer. Combine breadcrumbs, onion, parsley, seasonings and butter; spread steak with this dressing. Roll up and tie with string.
Brown on all sides in hot fat, add 2 cups hot water or tomato juice, sprinkle with salt and pepper. Cover tightly and simmer on top of stove, or bake in 325 F oven until meat is tender, about 1½ hours. Make gravy by thickening liquid in pan with flour and water paste. Remove strings from meat, cut into thick slices for serving. Serves 6.
Vancouver Daily Province (Tuesday, April 24, 1951). Modern kitchen time proven recipes, Spring supplement, p. 42.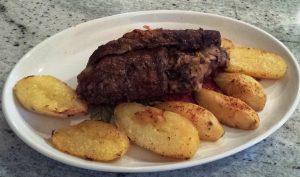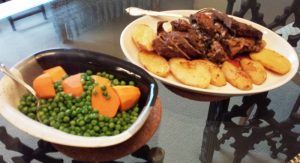 The most extreme in mock recipes that I have found is Mock Crown Roast. For some reason I find this recipe hilarious. It evokes an image of some befuddled cook with packages of wieners, string, thread and sewing needles! I don't recommend this recipe but perhaps it will make you smile.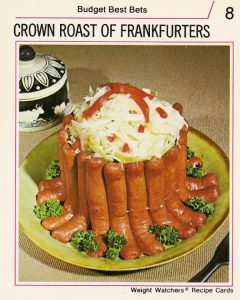 1 to 2 lbs. wieners                 bacon
2 cups filling (cooked sauerkraut or bread stuffing or cooked vegetables)
Arrange wieners side by side with curved side up (allow 2 wieners per serving). Thread a large needle with string; sew through all the wieners ½ inch from the bottom and ½ inch from the top. Tie ends of string bringing first and last wieners together. Stand wieners on end to form a crown. Fill centre of the crown with sauerkraut, bread stuffing, or creamed cabbage. Wrap 2 to 3 strips of bacon around roast. Anchor with toothpicks. Bake in 375 deg. F. oven for 20 minutes.
(Mrs. C.M. York, Port Arthur, Ont.)
Chatelaine Institute (1956). 401 tested recipes. Toronto: Maclean-Hunter, p. 34.