I've always been intrigued by "mock" recipes that show up in cookbooks, so this month, I'm going to look at several kinds of mock food I have found in searching though my old cookbook collection.
Mock recipes are a tribute to the imagination, creativity and ingenuity of cooks and bakers who often have to work with what they have available. Or, working with what is readily available they strive to glamourize or make it exotic and special. There are at least four different categories of mock food recipes I've found in my search. The first is a recipe that uses a more common ingredient in place of a less common or available one. For example, Mock Cherry Pie. I'm dreaming of summer and fresh ripe cherries of June and July in the Okanagan and I find my freezer well stocked with frozen cranberries left over from Christmas. What better thing to do than use cranberries to make Mock Cherry Pie!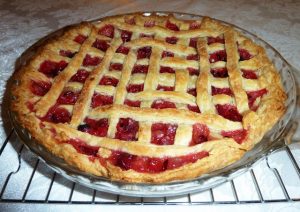 Mock recipes can be for an alternative that may be healthier, for example Mock Whipped Cream can be made from a variety of other ingredients that might be a preference for people who want a lower fat alternative. Mock recipes can use less expensive ingredients and dress them up to imitate a more expensive and lavish dish. An example of this would be Mock Duck that uses round steak, stuffed and roasted. I'll look at that recipe in a future posting. A final recipe category uses an ingredient that is abundantly available locally to pose as something more exotic. An example I'll consider in this category is the long time BC favourite of Cherry Olives.
The following recipe for Mock Cherry Pie comes from the British Columbia Women's Institute Centennial Cook Book. Since the recipes in this cook book were contributed by women from throughout the province, one can assume they are recipes that the women likely made in their own homes. The earliest appearance I found for Mock Cherry Pie was in Old Homestead Recipes (Maple Leaf Milling, 1920). It can be found as well in many current cook books although it may now simply be called Cranberry Pie.
In making this pie, use your favourite pie pastry recipe. I used 2 cups of cranberries and cut only the large cranberries in half, not all of them. I reduced the sugar to about 2/3 cup for a slightly more tart flavour. It's a lovely pie.
Mock Cherry Pie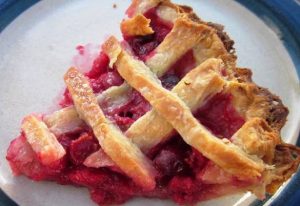 1 ½ cups cranberries (each cut in two)                 ½ tsp vanilla
1 tbsp flour                                                                ½ tsp almond extract
1 cup sugar                                                                pinch of salt
½ cup water
Do not leave out the almond flavouring as this gives the pie the flavor of fresh cherries.
Put raw sliced cranberries in lower crust, sprinkle with mixed sugar and flour. Pour on flavouring and water. Put on top crust. Sprinkle sugar sparingly over top. Bake in hot oven.
British Columbia Women's Institute (1958, 1961). Centennial Cook Book, Adventures in cooking. Victoria, BC: Author, p. 133.