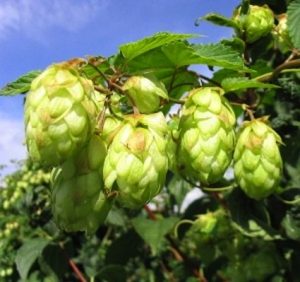 Hops are an essential ingredient in Canadian beer along with water, barley and yeast, and hop farms are coming back to British Columbia.
Hops have been grown in BC since the 1860s when two prominent Victoria brewers, Arthur Bunster and Alfred Elliot decided to stop importing the crop from the United States and instead offered generous prizes for local farmers who could successfully grow hops on a commercial scale (Denman, 2008; Evans, 1997).
The first plantation in the Fraser Valley was started by John Broe of Aldergrove in 1884, and was the source of root stocks for early growers in Chilliwack and Agassiz (White, 1948). By the early 1900s British Columbia was the largest hop growing region in the British Commonwealth, supplying England and the United States as well as local breweries. Ideal growing and climate conditions in southern B.C. and Vancouver Island resulted in the spread of production to Kamloops, the Okanagan, Creston, Squamish, and Lillooet.
Hop vines grow from rhizomes and they can continue to produce for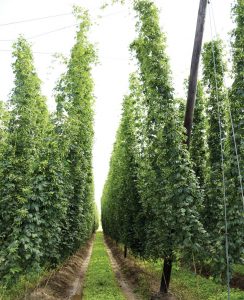 more than twenty years. They climb on strings about 6 meters (20 feet) high and grow at the amazing daily rate of 25 cm. (about one foot) once they get started. Harvest starts in August and can continue until October. The entire plant is cut off at ground level and at the support wire. The cones are stripped and separated from the leaves at a central facility and then kiln dried and packaged in bales to be held in cold storage. The hops are ground and formed into pellets, which are added to beer for flavour, aroma and bitterness.
Most of the harvesting today is done mechanically. In the early days the picking was done by hand and many people including First Nations families came from near and far for work. Hop harvest time was a time to socialize and meet old friends (see "A History of Hop Farming" in the Vancouver Province newspaper).
By the mid 20th century hop production in BC began to decline.  A combination of corporate concentration of breweries, competition from large scale hop production in Washington and Oregon and an infestation of hop louse in the Saanich Peninsula caused the BC industry to virtually disappear by the 1990s.
Then in 2007, a series of weather-related events destroyed hop plants around the world and all of a sudden there was a hop shortage.  About the same time micro-breweries were on the rise and demand increased for high quality organic hops.  So now hops are back in BC and you'll find them growing in Sorrento, Kamloops, Lillooet and the Fraser Valley, to mention just a few places.  October is BC Craft Beer Month, and it kicks off October 1 with the Hop Festival in Abbotsford.
If you don't drink beer you can always make beer bread.  A pioneer woman in the Windermere Valley, describes how she used hops to make yeast for her bread:
"I took a handful of dried hops and boiled it in a cupful of water; put in a potato and boiled it again, adding salt and some sugar. I set it aside until it was bubbly, then I put a cupful into the flour mixture. I was always careful to keep some of the yeast to start another batch" (Weir, 1988, p. 9 ). You can also make a quickbread using beer for the liquid and flavouring.  Of course there are many other recipes that call for beer as well.
For more information visit:
You might also be interested in:
Fermenting Revolution a book by Christopher O'Brien (2006, New Society Publishers Gabriola Island BC). He believes drinking beer and learning more about the culture, politics and economics of beer can help save the world.
Works cited:
Denman, R. (2008).  Brewers Gold (on-line exhibit).  Chilliwack BC: Chilliwack Museum and Archive.
Evans, G. (1991). The Vancouver Island Brewing Industry, 1858 – 1917. [Master's thesis available from the University of Victoria].
http://squamish.com/blog/hops-industry-squamish-beer/  [has some interesting old-time photos]
White G. B., (1948).  The Development of the Eastern Fraser Valley. British Columbia Historical Quarterly, 12(4), 259 – 293. Retrieved from: http://bchistory.library.ubc.ca/?db=bchf#
Weir, W. A. (1988). Pioneer Women in the Windermere Valley, British Columbia Historical News, 21(4) 7- 11. Retrieved from: http://bchistory.library.ubc.ca/?db=bchf#