Do Home Ec. Teachers Cook?
Like the doctor's children who get sick, or the bank managers who run up credit card debts, home economics teachers have often  been scrutinized for their everyday living habits.  Do they sew and cook for themselves and their families? Are they tidy housekeepers?
The Vancouver and District Home Ec. Association bravely tackled the subject of what home ec. teachers cook in their 1963 publication, "A Book of Favorite Recipes: Or How to Please the Family". Almost fifty hand-written recipes support a view of a well-rounded selection of nutritious recipes.
The recipes were family size, enough to feed 4-6 people. The largest of the eight recipe divisions was Main Course Dishes, with 19 pages, followed by Teatime Favourites (12 pages), Desserts (11), Appetizers and Soups (7), Salads and Dressings (7), Yeast and Quick Breads (5), Vegetables (5) and Miscellaneous (4).
Each contributor wrote out her own recipe (there do not appear to be any male home economics teachers) and a number of the names are still familiar today:  Daisy Webster[i], first home economics teacher to be elected to the BC Legislature, Charlotte S. Black[ii], Director of the UBC School of Home Economics, Barbara Cousens, Win Bracher, and Jean E. Mutch[iii]
"A Book of Favorite Recipes" did not reflect what was being done in foods classrooms in the 1960s.  The Foods, Nutrition and Home Management Manual (known as "the Red Book") was the font of wisdom for all home ec. teachers from 1929 to 1975[iv].
The Red Book included no recipes other than Northern Europe and British recipes. "A Book of Favorite Recipes" included Cheese Curry Broil, French Onion Soup, Escabeche de Camarones, Chinese Almond Omelet, Fillets Piquant, Hungarian Tuna, Italian Meat Sauce for Spaghetti, Lasagne Pie, Shrimp Foo Yung, Hungarian frosting and Paella.
In 1963 the BC home economics curriculum was tightly controlled by inspectors who swooped into home ec. classrooms around the province, to ensure that things were being done "the right way". Teachers were expected to follow the prescribed curriculum down to the exact recipe to be done in class on any given day throughout the school year. It was said that a home ec. teacher in Vancouver could phone up a home ec. colleague in Prince George and ask, "How did your orange tea biscuits go today?"
"A Book of Favorite Recipes" appears to present a picture of how home economics teachers wanted to be perceived.  It may or may not reflect what home economics teachers actually made at home in 1963. It does show that they were aware of current trends, and what they might have changed in the curriculum if they had had the freedom to do so.  In the words of noted Canadian cookbook author, Julie van Rosendaal, the book may fit into the category of "aspirational anthologies"[v].
Here are a few pages from ""Favorite Recipes" for your enjoyment.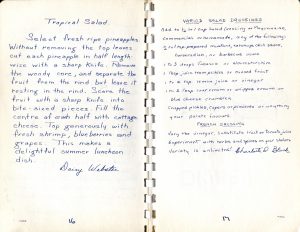 [i]  See https://en.wikipedia.org/wiki/Daisy_Webster.
[ii] See Charlotte S. Black fonds, http://www.library.ubc.ca/archives/u_arch/black.pdf
[iii] See the following BCFN blog post for more information on Jean Mutch. https://bcfoodhistory.ca/utility-companies-home-economists/
[iv]  See de Zwart, M. L. (2007). The Red Book revealed: British Columbia's home economics secret 1930-1975. British Columbia History Magazine, 40 (2), 11-13.
[v] See https://www.theglobeandmail.com/arts/books/article-cookbooks-of-the-past-offer-food-for-thought-on-canadas-national/