Cook Stoves for BC
In the period between 1858 when the gold rush and early settlement began in British Columbia and 1887 when the first train reached Vancouver, most settlers were dependent on local manufacture for their heating and cooking stoves.
Albion Iron Works in Victoria began in 1862, founded by Joseph Spratt primarily to meet Victoria's demand for wood stoves. Spratt's iron works expanded into shipbuilding, building boilers, and steam engines. He sold the company in 1882 to Wm. Irving and Robert Dunsmuir who built rail cars for Dunsmuir's E & N Railway. Albion Iron Works made all the rails for the Fraser Canyon segment of the CPR. By 1893, it was manufacturing about 30 types of wood stoves, many of which were still being sold when the company dissolved in 1928.
Stoves made by Albion Iron Works spread beyond Victoria and served households throughout British Columbia. The Historic O'Keefe Ranch in Vernon has several stoves built by Albion Iron Works.  They include four Franklin Stoves, the Nanaimo, and two boat stoves.  The Franklin Stove, invented by Benjamin Franklin was designed to draw off maximum heat before venting and could be used for limited amounts of surface cooking. Franklin did not patent his invention and so other manufacturers of stoves created the "Franklin" and improved upon the original invention. Originally the Franklin was an open hearth stove, a kind of box stove that mimicked a miniature iron hearth on short legs. It was an improvement over the large open fireplace since it held the heat and radiated it from all its surfaces.
Cook stoves burned different fuel depending on where in British Columbia they were used. One Albion Iron Works stove in the collection at Historic O'Keefe Ranch burned coal. The stove was named The Nanaimo. Nanaimo provided much coal for British Columbia beginning in the early 1800s.  Most cook stoves in BC burned cut and chopped wood although residents of Vernon reported that sawdust was common in that community. Stoves were adapted with a hopper mechanism that fed the sawdust into the stove and sawdust was home delivered![I]
Albion Iron Works also built boat stoves, perhaps unique to British Columbia. These stoves were small, compact and provided heat, and space for cooking and baking.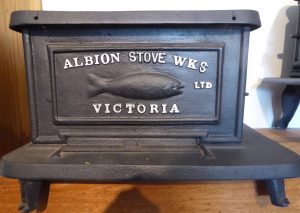 Wood fired cook stoves were widely used in British Columbia homes until the mid 1900s when electricity and gas became more available and electric and gas stoves were aggressively promoted.  The wood fired cook stoves were soon abandoned and it seems, happily so since there is little written about them. Much research is needed to develop a full account of the manufacture and home use of wood cook stoves that did dominate home and public kitchens for about a century in British Columbia.
[i] Conversation with Joann Jorgensen and Liz Ellison, Greater Vernon Museum and Archives, July, 2019.
Reference
Minhinnick, Jeanne (1970). At home in Upper Canada. Toronto: Clarke, Irwin & Co.
For more ideas about stoves, see: https://www.smithsonianmag.com/blogs/smithsonian-libraries-and-archives/2021/11/18/kitchen-essentials-from-centuries-past/