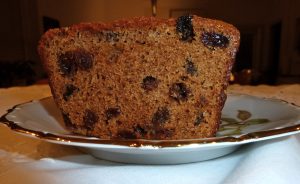 Canadian Cake for the trenches – aka War Cake is a unique recipe that reflects rationing and resourcefulness. A few months ago a friend loaned me her grandmother's cookbook, all hand written and begun in 1905 in Glasgow, Scotland. Included in the book was a recipe for Canadian War Cake.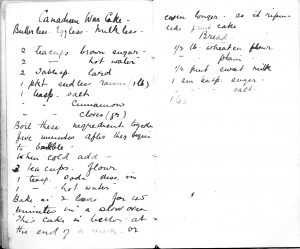 War Cake seems to have originated sometime during World War I as a cake that could be enjoyed despite rationing of certain foods. It uses no butter, eggs, or milk although there are many more recent online variations that extravagantly include nuts, dates, candied fruit and even made as iced layer cakes! The original War Cake was likely enjoyed on the "home front" as well as sent to family members from Canada serving overseas.
One way to commemorate Remembrance Day on November 11 is to experiment with recipes such as War Cake that were developed as a result of war-years rationing. My friend's grandmother's recipe led me to compare her recipe with those in British Columbia and other old cookbooks.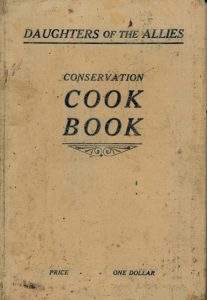 Her recipe is very similar to one included in the Daughters of the Allies Conservation Cook Book (1918) from Calgary.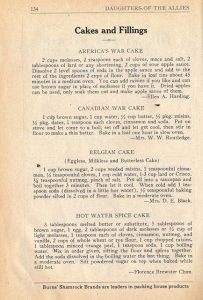 I chose to experiment with a recipe contained in a 1933 British Columbia cook book from Revelstoke United Church.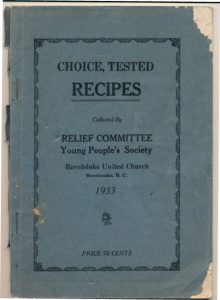 Instead of using brown sugar like many of the recipes, I used corn syrup as called for in this recipe. Instead of drippings, I used 2 tablespoons of butter.
Only the second attempt was moderately successful. 
Through experimenting I learned that once the raisin mixture boils for five minutes, it is very important to let it cool for several hours to room temperature. I added the flour carefully in order for it to reach the consistency of a cake batter and then worked quickly to add the baking soda, pour the batter into a loaf pan, and place in the oven, preheated to 325 degrees F.  I found it needed at least one hour of baking time.
Judging from abundant information available on line, Canadian War Cake seems to have been made all across Canada. For detailed instructions and more historical information see My Island Bistro Kitchen on Prince Edward Island  and University of Guelph's  Ian Mosby's explanation of War Cake.
References:
Daughters of the Allies (1918). Conservation cook book. Calgary, AB: Authors.
Relief Committee Young People's Society, Revelstoke United Church (1933). Choice , tested recipes. Revelstoke, BC: Authors.