The Nanaimo Bar
Who would have thought that Nanaimo Bars could be so controversial?
We have always claimed Nanaimo Bars as a quintessential BC food mainly because of the name and the outstanding branding done by the city of Nanaimo on Vancouver Island.
This famous recipe has been shrouded in mystery as no one has been able to pin-point for sure when it was created and named (de Zwart, 2010; Newman, 2014)[i]. It has been suggested that that the Nanaimo bar is based on a recipe for unbaked chocolate cake published in the Vancouver Sun in 1947 and republished in 1948. Some claim it was "invented" pre 1950's by late 1930's by the Nanaimo Hospital Women's Auxiliary and/or the auxiliary of St. Paul's Anglican Church. But others point out that a similar recipe was being made as far away as Newfoundland or Ontario going by names like "New York slice," "London fog bar" and "prayer bar." The first known recipe for Nanaimo bars appeared in the 1952 Women's Auxiliary of the Nanaimo Hospital Cookbook and was labelled "chocolate square." One year later, a similar recipe was published in Vancouver's Edith Adams' Cookbook, this time going by the name "Nanaimo Bar."
The most recent controversy relates to the size of the layers. For example, in March of this year, the CBC news ran the headline "New York Times Nanaimo bar flubs golden ratio, say experts (ahem, us)."  It referred to a picture in an Instagram account that showed the base as very thick[ii].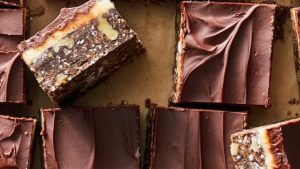 Prior to that, the Canadian Postage Stamp issued in 2019 also got the ratio wrong. The CBC headline in that case was  "Nanaimo bar fans going postal over 'impostor' square depicted on new stamp"[iii].  The bar on the stamp was deemed probably unstable and very sloppy to eat as there was far too much of the custard–icing layer.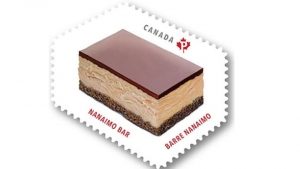 There seems to be common "Canadian" agreement that in a "real" Nanaimo Bar the base and custard-icing layer should be equal and the top chocolate thin.  If we wanted to be specific the bottom two layers should make up 7/8ths of the bar (7/16ths each) and the top layer (1/8th).
The other potential controversy, not yet taken up in the news, might be what are the ingredients and the proportion of those ingredients of the "real" Nanaimo Bar?  Let's compare a few recipes.
The Ultimate Nanaimo Bar
The Lazy Gourmet's classic Nanaimo bars

 

Auntie Mary's Nanaimo Bars
Bottom Layer

½ cup (125 mL) unsalted butter (preferably European-style cultured butter)

5 Tbsp (75 mL) cocoa powder

¼ cup (50 mL) granulated sugar

1 egg, beaten

1 ¾ cups (425 mL) graham wafer crumbs

1 cup (250 mL) shredded coconut

½ cup (125 mL) almonds, finely chopped

Layer 1
½ cup (125 mL) butter, softened
¼ cup (60 mL) sugar
1 egg
2 tsp (10 mL) vanilla extract
2 Tbsp (30 mL) cocoa powder
2 cups (500 mL) graham wafer crumbs
1 cup (250 mL) long-thread coconut
½ cup (125 mL) walnuts or pecans, chopped

½ c. butter

½ c. sugar

5 Tbsp. cocoa

1 egg

1 tsp. vanilla

2c. crushed graham wafers

1 c. coconut

½ c. chopped walnuts

Middle Layer

½ cup (125 mL) unsalted butter, softened

2 tbsp + 2 tsp (40 mL) whipping or heavy cream

2 Tbsp (30 mL) vanilla custard powder

2 cups (500 mL) icing sugar

Layer 2
¼ cup (60 mL) butter, softened
3 Tbsp (45 mL) milk
2 cups (500 mL) icing sugar
2 Tbsp (30 mL) custard powder

2 c. icing sugar

¼ c. butter

2 Tbsp. Birds custard

a bit of milk

Topping

4 oz (115 g) semi-sweet chocolate

2 Tbsp (30 mL) unsalted butter

Layer 3

5 oz (140 g) semi-sweet chocolate
1 Tbsp (15 mL) butter

4 squares Bakers semi-sweet chocolate, melted

1 tsp. butter

Directions

Bottom Layer

1. Pour 2 cups (500 mL) water into bottom of double boiler. Place on stove over medium heat and bring water to simmer.

2. In top of double boiler; combine butter, cocoa and sugar; place over simmering water. Heat, stirring, until butter has melted and mixture is smooth.

3. Add beaten egg; stir until thick. Remove top of double boiler from heat. Stir in graham wafer crumbs, coconut and almonds.

4. Scrape into parchment paper-lined 8-inch (2 L) square baking dish. Press firmly to create even bottom layer.

5. Tip: If you don't have a double boiler, half-fill a saucepan with water and heat over medium heat until water begins to simmer. Then, place a metal or glass bowl over the simmering water and proceed as directed.

Middle Layer

1. In bowl, cream together butter, cream and custard powder. Gradually add icing sugar; beat until light and fluffy. Scrape over bottom layer, smoothing top with spatula or palette knife.

Topping

1. In clean double boiler, melt chocolate and butter together. Remove from heat; let cool slightly. When cool, but still liquid, pour over custard layer.

2. Cover and refrigerate until cold.

Method

1. Grease a 9-inch square baking pan.

2. Bring a medium pot of water to a rolling boil. In a heat-safe bowl, use an electric mixer to mix together butter, sugar, egg, vanilla extract, and cocoa powder from Layer 1. Set bowl over boiling water, creating a bain-marie, and stir until mixture thickens slightly.

3. Remove bowl from stove and add graham wafer crumbs, coconut, and nuts. Pour mixture into the prepared baking pan. Using a spatula, spread mixture evenly to form base layer of the bars. Let stand at room temperature for 15 minutes.

4. In a separate bowl, combine ingredients in Layer 2 using a whisk or stand-alone mixer until smooth. Pour into the pan and spread evenly over the base layer.

5. In a small heat-safe bowl, melt chocolate in bain-marie or on a low setting in the microwave. Stir in butter until combined. Carefully spread over the custard layer.

6. Refrigerate baking pan until chocolate has hardened. Slice into 20 bars.

Melt butter and add next 7 ingredients. Pack into pan and cool.

Mix in bowl icing sugar, butter, Birds custard and milk until moist (not too runny). Spread on first mixture.

Spread chocolate and butter on top and harden in refrigerator until ready to use.
In the first column, we have the Ultimate Nanaimo Bar.  This recipe was the winner of a contest held in Nanaimo in 1986. During the four-week long contest, almost 100 different variations of the famous confection were submitted. The winner was Joyce Hardcastle and this is her recipe[iv]. It appears on the city's website.
In the middle column, we have Susan Mendelson's recipe. She is a BC cookbook author and caterer who is credited with popularizing the treat. It began with her selling the bars during the 1970s to help pay her university tuition, and evolved in1979 to The Lazy Gourmet, a café and catering company in Vancouver. It claims to be the first business to sell Nanaimo bars. When Expo 86 was held in Vancouver, Mendelson wrote the event's official cookbook and it included a recipe for Nanaimo bars. This spread the word far and wide as many people picked up the cookbook for a souvenir. The recipe also appeared in her 1980 cookbook Mama Never Cooked Like This[v].
In the third column we have Auntie Mary's recipe.  This is the recipe that is circulated in my family and often bragged about as "the best Nanaimo Bar ever." I got a copy from my cousin Sally. Our auntie passed away a number of years ago so we have no idea what her source was.  We do know that she lived in Vancouver in the early 1950's so may have got it from one of the newspapers that published it at that time. It is fairly close but not exactly the same as the one in the Vancouver Province Modern Kitchen spring supplement of 1953[vi]. She was also involved with her church's womens' auxiliary and various volunteer groups so she may have come across it through recipe sharing.
While there are similarities in ingredients, here are many slight variations.  For example:
the bottom layer in Auntie Mary's has twice as much sugar as the others
the Ultimate has less graham crumbs that the other two
the type of coconut when specified, varies – shredded in Ultimate, long-thread in Lazy Gourmet (when I've made Auntie Mary's, I use shredded)
the nuts are also not the same with the almonds in Ultimate and walnuts in the other two with pecans as an alternate in Lazy Gourmet
the middle layer in Ultimate is quite a bit richer than the others with twice as butter and heavy cream. It also specified unsalted butter which the author says makes the bars "more mellow".[vii] The others are OK with regular butter and milk. Auntie Mary's doesn't specify how much milk. You have to use your own judgment to get the right consistency but "a bit" is probably less than 3 Tablespoons.
Lazy Gourmet has more chocolate in the top layer. Ultimate has the most butter in this layer with Auntie Mary's the least.
both Ultimate and Lazy Gourmet call for preparing the bottom layer over heat which is probably to address any possible risk of food borne illness associated with raw eggs.
both Lazy Gourmet and Ultimate follow a standard, scientific, step by step format with details about what equipment and utensils to be used to ensure that even the most unskilled person could be successful with the recipe. Auntie Mary's only mentions a "pan" and a "bowl". It is more reminiscent of a time where it was assumed that most people (probably women) were cooking or kitchen literate.
Although the variations are not huge, it is still likely that there are subtle differences in the final product. Often what matters is our personal connection to the recipe. Those who consider Nanaimo home might go for the Ultimate recipe, those who shopped or ate at The Lazy Gourmet might want to try that recipe.  For me, I'll always choose Auntie Mary's because she was always the much loved "favourite aunt", who fussed over us kids, and spoiled us whenever she could. Her recipe brings back all those feelings of familial connection, love and comfort.
Do you make Nanaimo Bars? What recipe do you use and how does it compare?
With Easter coming up you might want to try making Nanaimo Bar Easter Eggs. A variation I sometimes make just for an Easter treat by shaping the base or first layer in to egg shapes with an indentation for the icing/custard layer.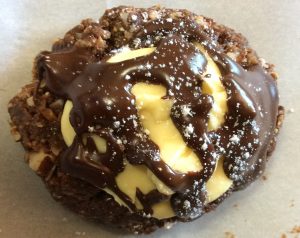 End Notes
[i]  deZwart, M.L. (2010). Nanaimo Bars, https://bcfoodhistory.ca/nanaimo-bars/; Newman, L. L. (2014). Notes from the Nanaimo bar trail. Canadian Food Studies/La Revue canadienne des études sur l'alimentation, 1(1), 10-19. Newman, L. L. (2014).
[ii] https://www.cbc.ca/news/canada/british-columbia/nanaimo-bar-controversy-1.5935977 ;also the source of the image
[iii] https://www.cbc.ca/news/canada/edmonton/nanaimo-bar-canada-post-stamp-controversy-1.5116981; also the source of the image.
[iv] https://www.nanaimo.ca/about-nanaimo/nanaimo-bars; https://www.foodnetwork.ca/shows/great-canadian-cookbook/recipe/the-ultimate-nanaimo-bar/16810/
[v] https://midislandnews.com/early-nanaimo-history/nanaimo-bars; https://www.thecanadianencyclopedia.ca/en/article/nanaimo-bar
[vi]  https://bcfoodhistory.ca/nanaimo-bars/
[vii] https://www.foodnetwork.ca/shows/great-canadian-cookbook/blog/history-of-nanaimo-bars/