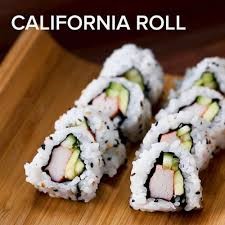 When did sushi come to British Columbia? BC's claim to the California Roll begins with the assertion that Chef Hidekazu Tojo of Vancouver first introduced it to Canadian and international tourists. Because the roll was so popular with tourists from Los Angeles, he named it after their home state. However food historians in California say it was first served in a restaurant in Little Tokyo in Los Angeles made by chef Ichiro Mashita, who substituted avocado because he did not have toro, or fatty tuna belly [i].
Despite the conflicting points of view, Tojo insists that he is the inventor of the California roll, so this week's blog is all about him.
The Originator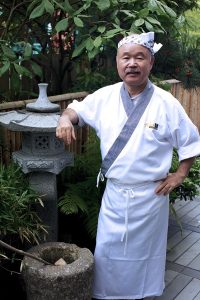 Hidekazu Tojo was born in Southern Kagoshima, Japan in 1950. After high school, he moved to Osaka to become a chef, training at a renowned ryokan (Japanese inn) called Ohonoya. He moved to Vancouver in 1971 and worked at two sushi restaurants in Vancouver (Maneki, and Junya) before going out on his own in 1988, opening Tojo's, still serving his creations to this day.[ii]
In Canada, Tojo indulged his passion for inventiveness.  He created the California Roll  with the rice on the outside to hide the nori (seaweed wrap), using cooked fresh local Dungeness crab since many people were uneasy about eating raw fish, and including avocado and cucumber.  It became so popular that it has spread all over the world.
He also invented the BC Roll where he used barbecued salmon skin roll in place of the traditional anago (salt-water eels).[iii]. He found the diversity of fresh local ingredients and seafood such as salmon, albacore tuna, halibut, sable fish, spot prawns, geoduck, scallops, and oysters in BC perfect for his creative genius.
As an example, take a look at all the original rolls in the Tojo Menu[iv].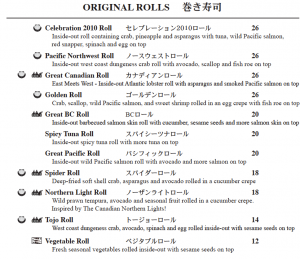 While Tojo's name is frequently linked with the "inside-out" sushi, his culinary skills are not limited to sushi. He has never been bound by convention and his creativity with traditional Japanese culinary techniques is wide ranging. He aimed his original dishes at creating a meeting place for North American tastes and Japanese techniques. His restaurant is particularly known for its omakase, a multi-course meal where the diner lets the chef dictate the dishes.
In June 2016, Tojo was appointed as a goodwill ambassador for Japanese cuisine by Japan's Ministry of Agriculture and Forestry. This honour acknowledged how he has raised the profile of Japanese food around the world[v]. At the time, he described his approach to food as "Food is science, food is border-less. My food comes from [the]heart, and I am still having so fun creating after 45 years."[vi]
Tachibana (2008) examined the difference between sushi in Japan and sushi served in Victoria and concluded that there are three main differences.  First, Canadian sushi uses a greater variety of food items including more vegetables and less seafood, while Japanese sushi has a larger variety of seafood than in Canada. Second, rolled maki sushi is more dominant in the Canadian sushi market, while nigiri-sushi where the meat or seafood is put on top of rice is more dominant in Japan. Third, Canadian rolled sushi is often rolled with nori inside and rice on the outside (inside-out), while Japanese rolls have the nori outside and the rice inside.  She describes the changes in sushi in Canada as a process of transformation and diagrams it like this: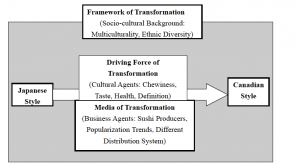 The Process of Transformation (Tachibana , 2008, p. 131)
Tachibana (2008) explains how transformation is a simultaneous process of the appropriation and deterritorialization of a cultural object – in this case sushi.  In the transformation process the cultural object is adapted and becomes embedded into the Canadian habitat. Sushi is but one example of how much of our culinary history here in BC consists of foods that have been adapted from outside to fit into our cultural and commercial environment.
If you haven't tried California Roll yourself, it's a pretty simple recipe: sushi rice, dried seaweed, a bit of avocado, a fair-sized chunk of crab, and occasionally a few slivers of cucumber or other vegetable.  Here is a recipe that I used with students. I made the rice and then they shaped the sushi.
 California roll
 This is a very new, modern type of Japanese sushi.  The ingredients and method are the same as for traditional sushi making except that the hands are used for rolling instead of a bamboo mat.  The bases for all sushi is vinegar-marinated rice[vii].  The rice used should be short grain so that it will be puffy and moist.  The sushi should be prepared while the rice is till warm.  Tamaki-sushi uses nori, a kind of dried seaweed.  When serving sushi, the condiments are sliced ginger root, wasabi (a green horseradish-like 'mustard'), and soy sauce.
There are three steps in the preparation.
Cooking the rice
850     ml        rice
900     ml        water
Wash rice until the water runs clear and drain in a fine strainer.  Put the drained rice in a rice cooker or a pot with a tight fitting lid and add water. Bring to boil over medium heat.  Cover tightly and boil over high heat for 2 minutes.  Reduce heat to medium and boil a further 5 minutes.  Cook gently over a low heat for 15 minutes more or until the water has been absorbed.  Remove from heat.  Take off lid and spread a clean kitchen towel over the top of the pot, replace lid and let stand for 15 minutes. 
Marinating the rice
65        ml        rice vinegar
60        ml        sugar
15        ml        salt
While rice is cooking, combine marinate ingredients in a small saucepan.  Heat gently until the sugar has dissolved, stirring constantly.  Remove from heat and cool.  When rice is cooked empty rice into a hangiri (or other non metallic tub) and spread evenly over the bottom with a large wooden spoon.  Run a spatula through the rice in a right and left slicing motion to separate the grains.  As you do this, slowly add the vinegar mixture.  You may not need it all.  The rice must not be mushy.
Assembling the sushi
nori (sheets of dried seaweed)                  other filling ingredients
sushi rice                                                    cooked spinach
wasabi (green mustard)                              carrot sticks
toasted sesame seeds                                 asparagus
cucumber (cut into thin sticks)                    string beans
avocado
crab or shrimp
It is easiest to prepare the sushi on a bamboo mat (maki-su).  Put a sheet of nori on the maki-su.  Spread a thin layer of rice evenly over the sheet, sprinkle with sesame seeds. Then turn the sheet over onto a piece of plastic wrap or waxed paper so the rice is on the bottom.  Across the middle of the roll lay the ingredients that will be in the centre of the roll. Dot with a little wasabi if desired. Using hands and the plastic wrap roll up along the long side of the nori.  With a sharp knife cut into slices.  Serve with extra wasabi and soya sauce for dipping.
You can watch Chef Tojo do this at: Breaking Tradition: the Origin of the California Sushi Roll – YouTube
[i] https://www.ocweekly.com/who-invented-the-california-roll-6627895/; https://en.wikipedia.org/wiki/California_roll; https://www.shogunorlando.com/the-history-of-the-california-roll/; https://theculturetrip.com/north-america/canada/articles/the-california-roll-origin-story/
[ii] http://montecristomagazine.com/magazine/winter-2017/hidekazu-tojo; http://tojos.com/; https://www.theglobeandmail.com/life/food-and-wine/food-trends/meet-the-man-behind-the-california-roll/article4631256/
[iii] https://en.wikipedia.org/wiki/B.C._roll;
[iv] http://tojos.com/
[v] https://www.cbc.ca/news/canada/british-columbia/tojo-1.3628563; https://www.smithsonianmag.com/smart-news/japan-honors-creator-of-california-roll-180959446/
[vi] http://tojos.com/
[vii] Tachibana (2008) suggests that in BC most often the main ingredient is nori but in Japan the main ingredient is marinated rice. The definition of sushi in Japan depends on the processing of rice rather than how it is formed.  If you look at Tojo's menu for rolls you'll see that not all of them have nori.
Tachibana, R. (2008). Processing sushi/cooked Japan: Why sushi became Canadian (master thesis). University of Victoria, British Columbia.