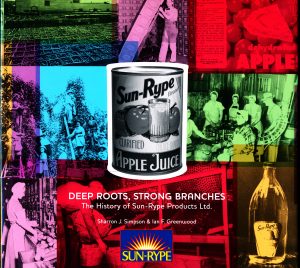 "Deep roots, strong branches, the history of Sun-Rype" began as a memoir by Ian Greenwood who was a manager of new product development and later General Manager for Sun-Rype Products Ltd from 1952 – 82.  Greenwood embeds his memories in a history of orchards in the Okanagan starting with Father Pandosy in 1859, Lord and Lady Aberdeen's efforts in the 1890s, and the research at the Dominion Experimental Farm in Ottawa and at Summerland.
When I grew up in Manitoba, our family staples were fresh whole apples and oranges (never juice) and I remember my first taste of sweet cold apple juice, offered by a neighbor on a sweltering hot day. What was this marvelous drink? This vivid memory connected me to Greenwood's story of the first attempts to solve the problem of how to create apple by-products from cull apples that otherwise had to be dumped into landfills at a cost to the grower. The first attempts began in the 1930s when the Sun-Rype brand was introduced. In the 1950s, when I would have first tasted apple juice, it was a new product that became the signature product of Sun-Rype across Western Canada. Simpson and Greenwood trace the story of Sun-Rype as it continues to diversify and experiment with an ever-expanding array of products, new packaging, and global markets.
This very readable book is beautifully illustrated. It includes profiles of key figures in Sun-Rype Products Ltd and a corporate timeline. The timeline especially helps to understand some of the Company transitions and the relationship to other fruit organizations. It is a good companion reading to David Dendy's book A Fruitful Century. Together they point out the importance of being a nimble industry and company, ready to improvise, innovate, and evolve as technology and science evolve and consumer trends change.
Simpson, Sharron J. & Greenwood, Ian F. (2006). Deep roots, strong branches, the history of Sun-Rype. Kelowna, BC: Manhattan Beach Publishing and Sun-Rype Products Ltd.