Freshly Picked: A Locavore's Love Affair with BC's Bounty. Halfmoon Bay, BC: Caitlin Press
I can always count on BC Ferries to introduce me to new BC titles.  On a recent trip I picked up a delightful read by Whistler resident, Jane Reid.  Some of you may be familiar with her work from articles in Edible Vancouver & Wine Country magazine.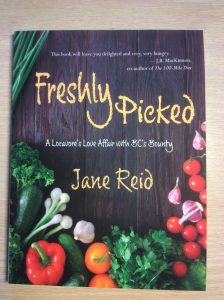 Are you a locavore? A locavore was the Oxford dictionary word of the year in 2007.  It is defined as someone who is committed to eating food that is grown or produced within their local community or region.
Jane Reid is a passionate locavore and she outlines several reason for becoming one: flavor; connection; economics; food security; sustainability; reducing our carbon footprint; biodiversity; and food safety.
But mainly this book is a tribute to local BC foods.  It is a seasonal journey focusing on foods grown throughout the province.  With quirky titles such as "Give Peas a Chance," "Strawberry Fields are Not Forever," "Peachy Keen" and "Funky Fungi" and beautiful colour photographs, Reid weaves interesting facts about each food and information about its production in BC, with cooking tips and recipes that both educate and entertain and encourage the reader to savour our local seasonal bounty.
I decided to try the recipe for ratatouille in the chapter on Mr. Zucchini and Friends. All the recipes are written narrative style and usually appear near the end of each chapter.
Cut one small eggplant and one zucchini into small pieces the size of cherry tomatoes and place in a saucepan.  Add one large onion and a green pepper, each cut in stamp sized pieces, plus one clove of garlic smashed although garlic lovers may prefer to add more, and much more.  Select four big, beautiful ripe tomatoes, and remove skin by immersing them in boiling water for a few seconds.  Then remove and peel – the skin will come off easily.  Chop and add to the rest. Bring the combo to a boil, then turn down to simmer.  Give it a stir occasionally.  Though it doesn't look promising to start, this ménage will turn into a thick creamy dish after one hour of burbling away (p. 89).
With a sprinkle of cheese it made a delicious side dish.
Because the recipes appear within a paragraph with no title you might miss them, so you'll want to pay attention as you near the end of the chapters.
"Love Affair" in the sub-title is an apt description as season by season, Reid offers stories, memories, and tales of love and affection for the best of what BC has to offer making this book a good choice if you are looking for a gift for a "foodie" this holiday season.
While this book is a tribute to local farmers, perhaps her next book be on local foragers and the wild foods available in this province.