Chilliwack Corn
Chilliwack corn is ready and this is a fact not to be ignored. It hit the market about a month ago and Chilliwack is now well into "corn season" with street-side corn stands everywhere!
The season started late this year due to the weather but is now fully underway. Chilliwack is not a variety of corn; rather the name designates the geographical region where the corn is grown. Chilliwack farmers have become famous for the corn they grow and they grow several varieties — Super Sweet, Tuxedo, Jubilee, Peaches and Cream are common and most growers specify it is not genetically modified. Like Taber corn growers in Southern Alberta who are famous throughout the province and beyond, Chilliwack farmers benefit from the weather that provides hot days and cool nights that bring out the right degree of sweetness and crispness to the kernels.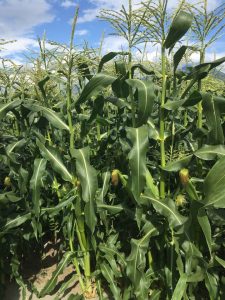 When Chilliwack's reputation developed for growing corn is unclear although Department of Agriculture reports as early as 1915 described successful growing of corn in the area. Smart promotion of Chilliwack corn has helped build its reputation so that travellers from distant places make a point of stopping to buy corn[i] and the corn has drawn the attention of chefs who now feature it on the latest upscale menus in Lower Mainland restaurants.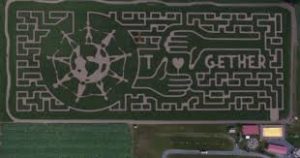 The Chilliwack Corn Maze and Pumpkin Farm on Yale Road has operated since 1999 and has attracted visitors and added to the reputation of Chilliwack corn. The Corn Maze is intricate and large and experiencing it has become an annual event for many individuals and families.[ii] Each year there is a new theme and this year the theme is "Together." An agro-tourism initiative of two families, the maze is described as epic and a "must experience" for maze enthusiasts.
While Chilliwack's place on Trans-Canada Highway #1 may give it more visibility in growing and selling large quantities of corn, the quieter little neighbor community of Agassiz, 16.18 km (10.05 miles) to the northeast claims the title of "Corn Capital of British Columbia." They hosted their first Corn Festival in 1949 as part of the Agassiz Fall Fair and the District of Kent where Agassiz is located has adopted a logo that is a stylized version of an ear of corn.[iii]
There may be a little rivalry in corn growing between the two communities but some growers span both communities and sell their corn throughout the Fraser Valley.  Chilliwack farmers were some of the first to grow corn on a large scale and market directly to the public. The tradition carries on in several farm families that include the Joiners and Sparkes.
Joiners is a third generation family owned business that started growing corn in the 1970s for the York Farm Cannery in Sardis and then decided to sell direct to the public instead. They pride themselves on selling non-GMO corn and corn that is sold the day it is picked![iv] Their corn is sold mainly in Langley and Chilliwack areas at street-side stands.
Sparkes is well known for their corn sold from yellow and green mini barns located street side throughout the Lower
Mainland from Abbotsford to Agassiz and in Vernon and Kelowna. Sparkes also claims to grow non-GMO corn that they plant every few days so it matures over a long season beginning usually in July and continuing into the autumn.[v]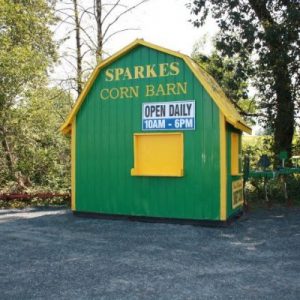 Chilliwack is ideally located for growing corn because usually the weather provides all the right conditions – ample rain, heat (corn likes 32 degrees Celsius), and sunshine. It is said that residents of Agassiz consider a summer feast to include corn, salmon, and blackberries. Chilliwack residents would probably agree and provide the following two ways to enjoy the bountiful corn harvest.
Corn off the Cob (aka Creamed Corn)
4 tablespoons butter
1 small yellow onion chopped
1 cup chicken stock, plus more if needed
½ cup heavy cream
8 ears of corn, shucked and kernels cut off
Salt and freshly ground pepper
2 teaspoons red wine vinegar
Melt the butter in a large sauté pan over medium heat. Add the onions and sauté until sot, about three minutes. Add the chicken stock, heavy cream, corn and some salt and pepper and cook, stirring occasionally, until the liquid is mostly evaporated and the corn is soft. If the corn isn't done but the liquid is gone, add a little more stock and continue cooking. Stir in the vinegar and serve.
recipe courtesy of hofstedes.ca/blog/chilliwack-corn-off-the-cob
Chilliwack Corn Chowder
2 good size potatoes, peeled and cubed
2 large carrots, peeled and cubed
1 onion chopped
1 stalk celery, chopped
5 cups water
1 teaspoon salt
½ pound bacon cut into ¼ inch pieces or farmer sausage crumbled
1 bay leaf
handful of fresh parsley
seasoned pepper to taste
1 tablespoon Worcestershire Sauce
few drops Tabasco sauce
3 cups corn kernels
1 small can creamed corn
2 cups milk or light cream
flour and more milk to thicken if desired
chopped fresh parsley
cheddar cheese (to sprinkle as a garnish)
Place potatoes, carrots, onion, celery, bay leaf, parsley and salt in a large pot.
Add 5 cups water and bring to a boil. If using farmer sausage, chop or crumble the sausage into the water and vegetables.
Turn to simmer and let cook until potatoes and carrots are tender.
While that is cooking, fry bacon (if using) until crisp and drain.
When vegetables are done, add corn, Worcestershire and Tabasco and seasoned pepper.
Taste and add more seasonings if desired. Let cook 10 minutes more.
Add milk or cream and heat, stirring well.
You can thicken the soup at this point if desired. Mix 1 tablespoon flour with ½ cup milk and add to the soup.
To serve, garnish with shredded Cheddar cheese and snipped parsley.
recipe courtesy of mennonitegirlscancook.ca
[i] Chouinard, Mike. "Farming Income Continues to Rise", Chilliwack Times, December 9, 2003.
[ii] chilliwackcornmaze.com
[iii] http://www.virtualmuseum.ca/community-stories_histoires-de-chez-nous/knee-high-1st-july_hauteur-genou-1-juillet/
[iv] Joiners-corn.business.site
[v] chilliwackcorn.com