Book Review – Street Farm: Growing Food, Jobs and Hope on the Urban Frontier by Michael Ableman (2016). Chelsea Green Publishing.
I found this book on BC Ferries before the COVID 19 pandemic and I just finally got around to reading it.  It was the perfect feel-good read for lockdown times.
Street Farm is a heartwarming tale of determination and grit.  Imagine setting out to farm in the middle of the Downtown East Side in the city of Vancouver, the poorest and most poverty-stricken postal code in Canada. I use the word "farm" not garden.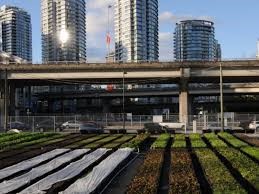 This is definitely farming – large scale food production on small acreages within the city limits, on land left vacant because of soil contamination or paved over parking lots. These farmers use huge containers because it is impossible to reclaim the existing soil and the land is leased so they must be able to move the farm if the lease is not renewed.
You have to have a powerful vision to carry this out. In 2009, the author,  Michael Ableman was running his own farm on Salt Spring Island and had a long history of growing food and urban farming.  Ableman was invited to a meeting in Vancouver of non-profit organizations and social service agencies to discuss growing fresh food for the downtown east side neighbourhood. That was the beginning and before long he had teamed up with Seann Dory who had experience working with the neighbourhood at "United We Can", an organization that supports dinners.  Ableman and Dory have created a collection of small acreages in the center of Vancouver to support their goals of growing good food and providing meaningful employment.
Sole Food Farms (Save Our Living Environment) is now North America's largest urban farm project and produces thousands of kilograms of artisan-quality fruits and vegetables. It even includes an orchard! The produce is sold through Community Supported Agriculture (CSA), farmers' markets, and distributed to local restaurants. A portion is made available to the residents of the downtown eastside. The funds from sales plus sponsorships provide enough money to cover the cost of paying a living wage to those from the neighbourhood who are hired and trained to work there. Proceeds from the Vancouver sales of this book also help to support the project.
The ten chapters interweave the story of creating an urban farm and producing food with the personal stories of people who came to work on the farm and now call themselves farmers. Each vignette highlights the values and beliefs that helped make Sole Food Farms possible. The photographs are wonderful  and inspiring. It is a story of transformation, of landscape and people.
For more information see  https://solefoodfarms.com/