Mining towns such as Barkerville, BC presented a particular challenge for the provision of food for miners and others rushing into the Cariboo during the 1860s Gold Rush. There was little local food production and public eating places such as restaurants and stopping houses provided food for many people.
Lately I've been reading The Cariboo Sentinel,  a newspaper published in Barkerville BC from 1865 to 1875.  I can't resist reading almost all the advertisements. They are fascinating as they indicate the needs of the people and the entrepreneurial ventures that sprang up to meet them.
The Parlor Saloon was one of many establishments termed "saloon".  Others included fashion saloons, coffee saloons and saloons that served hard liquor. The Parlor Saloon appeared to supply drinks, entertainment and a reading room. The newspapers from England, Canada, US and the colonies suggest the origins of the clientele the Saloon sought to serve.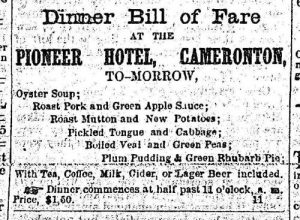 The Pioneer Hotel in Cameronton listed the full menu it had to offer. Dinner was the noon meal served at 11:30 am. Camerontown was built a mile downstream from Barkerville. Within a few years it was realized that it had been built on rich pay dirt and all the buildings were torn down. Today it's buried beneath the north end of the parking lot for Barkerville Historic Town (www.ghosttowns.com).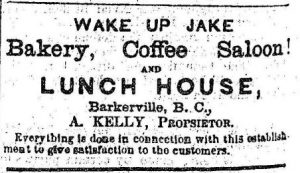 Wake Up Jake, Bakery and Coffee Saloon was already a core establishment in Barkerville in 1865 and it continues to operate in the Historic Town today (www.facebook.com/WakeUpJakeRestaurant/.
Jacob Velte of the Cosmopolitan Restaurant and Bakery and Fred Littler of Vanwinkle Butchery word their advertisements as a promise to patrons; almost in the form of a promissory note. Velte  promised bread made with the finest flour and the services of a good cook, preparing meals ready at all hours.  Littler maintained a similar tone in his promise to keep good fat beef and mutton constantly on hand "with no deviation".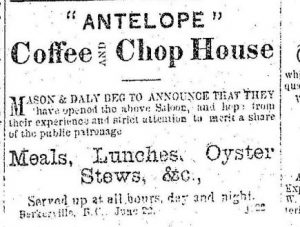 The advertisement by the Antelope Coffee and Chop House in 1868 makes a similar invitation and almost plea for patronage from the public in offering meals, lunches, oyster stews, etc.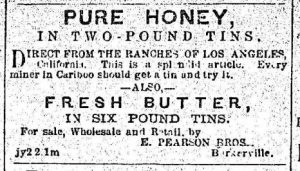 The 1868 advertisement by E. Pearson Bros. for honey from Los Angeles and fresh butter suggests a possible short supply and desirability of these products.
Advertisements are an interesting source for understanding food history and those in the old mining town newspapers tell us the foods that were scarce and valued, what people ate, where the food came from, and meal practices of the time. As I read old newspapers I will continue to look closely at the advertisements.