Queen Elizabeth II was born April 21, 1926. She became Queen on February 6, 1952 and was crowned on June 2, 1953.  At the age of 90, she is the longest serving British monarch. All these events have put Queen Elizabeth II in the spotlight throughout this year and created a resurgence of interest in Queen Elizabeth Cake.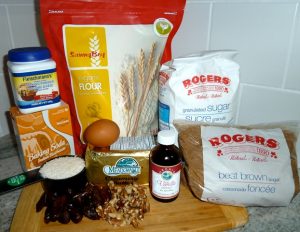 Frank Berkers, owner of Bugaboos Café (http://bugabooscafe.com) on Silver Star Mountain (Vernon BC) often has Queen Elizabeth Cake on hand for customers. A friend who bought a slice told me it had chocolate chips in it. That sent me into my old recipe books to see exactly what Queen Elizabeth Cake was.  Queen Elizabeth Cake uses simple ingredients. It's basically a white cake with chopped walnuts added and instead of milk, it uses one cup of dates, softened in one cup of boiling water and one teaspoon of baking soda. This gives the cake its rich brown colour and moistness.  The distinctive flavour is in the topping – a mixture of flaked coconut, butter, brown sugar and cream.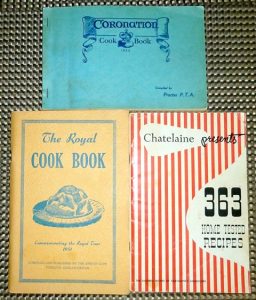 The origins of the Queen Elizabeth Cake recipe are unclear. It may have been created for the coronation of King George VI and Queen Mother Queen Elizabeth in 1937, and resurfaced in 1953 in honour of Queen Elizabeth II's coronation. The Royal Cook Book, commemorating the Royal Tour 1951 compiled and published by the Amicus Club of Yorkton, Saskatchewan did not include the recipe although it did include a recipe for Prince Philip Cake (p. 20). The inclusion of the Queen Elizabeth Cake recipe in Chatelaine's 363 Home Tested Recipes (p. 35)  and in the Coronation Cook Book (p. 1) by Proctor PTA, both printed in 1953, suggest that the recipe was in use well before 1953. The recipe also appeared in the Women's Auxiliary to the Nanaimo Hospital Cook Book (1952, no page #) and in books as recent as the 1980s.
I remember my mother and her friends in the 1950s discussing how to get the topping right.  The recipe instructions said to return the cake to the oven and bake until the top browned because the wood stoves they baked with didn't have broilers. Their toppings probably looked something like mine – a little thin and not too decadent! More recent recipes increase ingredients in the topping to as much as: 1 cup flaked coconut, 2/3 cups packed brown sugar, 6 tablespoons of butter, and ¼ cup cream; and recommend browning under the broiler.
Whether you use the QErecipe from Chatelaine magazine's 363 Home Tested Recipes (p. 35) or more recent versions, this is a tasty cake,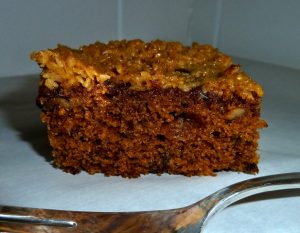 perfect to serve with a cup of tea or coffee.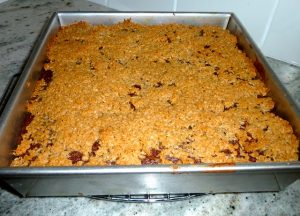 Does Queen Elizabeth Cake appear in your old cook book?