Jan Peskett – Nabob Foods
Jan Peskett  was the first and last person to fill the role of Jean White, home economist for Nabob Foods.  The pseudonym of Jean White joins other home economics business personalities in BC, including  Edith Adams and Penny Wise. 
Peskett started to work at Nabob shortly after her 1966 UBC graduation in Dietetics and was introduced as Jean White, qualified home economist in 1968. White's "life span" was fairly short, lasting until 1976, when Nabob was sold to Jacobs Suchard, a French company.  At Nabob Foods, Peskett had a full test kitchen where she trained and provided demonstrators for many food companies. Shirley Ann Brown, the Director of Communications at Kelly, Douglas  and Company in the same time period, describes Peskett's responsibilities as "product and consumer testing,  consumer research using consumer panels and recipe testing for magazines we distributed through our retail grocery stores." (2).  
Both Peskett and Brown were active members with the BC Home Economics Association, and together wrote Cooking the Metric Way" (1976),intended to introduce measures to Canadians (3).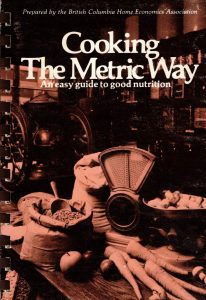 The 1970s were times of great change in Canadian women's rights, beginning with The Royal Commission on the Status of Women in Canada (4) initiated by Prime Minister L.B. Pearson in 1967 and instituted  by Prime Minister P.E. Trudeau. Peskett was part of the generation of home economists in business, new working women who graduated from university and obtained well-paying government and business positions outside the traditional fields of education and nursing. They advocated for the consumer and practical living, promoting tested recipes and thrift.
The market economy, "trickle-down theory", public spending cuts and the ascendance of commercial influences such as Martha Stewart were still a decade off when Peskett travelled across Western Canada, representing Nabob Foods. When she visited Quesnel, BC, in 1970, the Cariboo Observer headline read "Wears boots while cooking" (5).  As the daughter of English immigrants, this may or may not have been true, but one thing is certain, Jan Peskett was a lively and winsome advocate for Nabob Food products.  She created a recipe contest for pioneer foods across Western Canada and billed it as a community service project, rather than an advertising gimmick (6).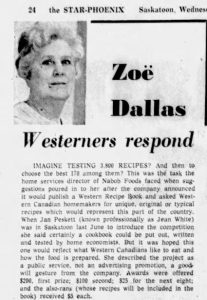 Of 3800 entries, 170 were chosen for the final publication, "Time-Honoured Recipes of the Canadian West".  All recipes were tested in the Nabob Food Service kitchens. Top prize of $200 went to Susan Harvey of Kelowna, BC.
After Nabob was sold, Peskett developed her own successful marketing company, JMP in 1979, with projects including publications such as magazines and cookbooks, package design and detail, advertising photography styling, consumer sampling and even Mystery Shoppers.
As a home economist in business, her life serves as an outstanding example of how home economics has always been more than "cooking" and "sewing".  In Peskett's career, she advocated for consumers; produced work of high quality and standards and maintained quality control and food safety.
The last word will be left to the late John Lyndon Grove, who worked with Peskett on a number of projects and contributed the following memory to Jan Peskett's memorial page in the Vancouver Sun after her death in 2017.
Someone really has to write something about Jan Peskett's graciousness and competence. A great privilege to know her and to work with her, from her time at Nabob Foods (when, memorably, she sent Bruno Gerussi of "Celebrity Cooks" and "The Beachcombers": with PR man Ray Torresan to coffees klatches in Regina and Saskatoon to test Nabob's new brick pack coffee) to her production of the short-lived but excellent magazine "Enjoy!"to "Adventures in Cooking," the book she created for Ducks Unlimited. A true professional, and unfailingly gracious through it all. We hope to see her again, in a test kitchen somewhere. Lyndon Grove, February 10, 2018 | Burnaby, BC
This short article has not touched the story of Kelly, Douglas and Company, the arms-length company managing Nabob.  That will have to wait for another day and much more time.  These days, Nabob is owned by Kraft and noteworthy for its high-quality coffees and teas.
References
(1)  Photo of Jan Peskett, contributed by Linda Peterat.
(2)  Personal communication, Shirley Ann Brown (UBC 1963)
(3) Metric measures began to be implemented in Canada in 1970.  https://www.thecanadianencyclopedia.ca/en/article/metric-conversion
(4)  See also the Timeline of Canadian Women's History. It doesn't give specifics, but does show the breadth of the expansion of women's rights in the 1970s.  https://people.stfx.ca/nforeste/308website/women'shistorytimeline.html
(5) Wears boots while cooking.  Quesnel Cariboo Observer, 12 November, 1970.
https://www.newspapers.com/clip/78492604/quesnel-cariboo-observer-12-nov-1970/
(6) Peskett, J. Obituary, Vancouver Sun.  https://vancouversunandprovince.remembering.ca/obituary/janet-peskett-1065330214