Cookbook Research Provides a Window to BC Food History – The Navy League Chapter of the Imperial Order of Daughters of the Empire Victory Cook Book (1941)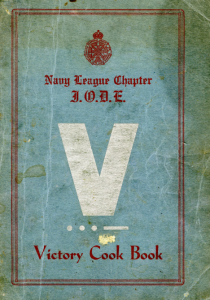 Cookbooks are increasingly being recognized as primary sources for historical research as they offer original, uninterpreted information often reflecting tastes and cooking practices of the home cooks. Community cookbooks, created by organizations, such as church groups or women's clubs, often share practical culinary knowledge for a specific purpose or cause.  Recently I conducted a cookbook analysis of a BC cookbook produced in 1941.  This particular cookbook was available on the Wartime Canada website and was billed as a  "wartime cookbook" that revealed "what women on the homefront cooked for their families" (Wartime Canada).
The Navy League Chapter of the Imperial Order of Daughters of the Empire (IODE) Victory Cook Book was published in 1941 in Victoria. The purpose was to raise funds for the war effort. The 92 page document includes:
• 36 ¾ pages of advertising
• 7 pages of informational material, e.g., introduction, list of patrons, a word of appreciation, table of measurements, what to serve with meats, fish, etc., a plan of a week of meals, kitchen hints, how to remove stains, special menus (e.g., Thanksgiving, bridge), about cakes.
• 49 ¼ pages of recipes [Soups (5), Vegetable Dishes (14), Seafood and Fish Dishes (15), Meat Dishes (27), Salads (15), Cakes (45), Pies (6), Desserts (9), Biscuits and Bread (5), Cookies and Small Cakes (12), Luncheon Dishes (12), Candy (5), Jam (5) Pickles (9)]
After using a structured analysis (Wheaton, 2006), I concluded that this cookbook reveals:
• the cookery knowledge of women at the time was very high as the directions in recipes very spare and tools and equipment seldom mentioned;
• the values and beliefs of the organization, in this case the imperial agenda were clearly evident;
• that cookbook publication could be seen as a form of public participation and a way to enter into, and be accepted in the public sphere and seek public validation of the work of women's organizations. 
 To read more see the paper in the research section:
https://bcfoodhistory.ca/wp-content/uploads/2019/03/Smith-M.G.-Cookbook-Research-BCFH.pdf
 References
Wartime Canada. http://wartimecanada.ca/document/world-war-ii/recipes/victory-cook-book
Wheaton, B. (2006). Finding real life in cookbooks: The adventures of a culinary historian.  Humanities Research Group Working Paper. Retrieved from http://www.phaenex.uwindsor.ca/ojs/leddy/index.php/HRG/article/view/22/27